Liverpool captain Steven Gerrard has refused to comment on the biting incident involving team mate Luis Suarez and Chelsea's Branislav Ivanovic. The 26-year-old Uruguayan appeared to bite the Serbian international on his right arm, late in the Premier League tie between the sides on Sunday afternoon.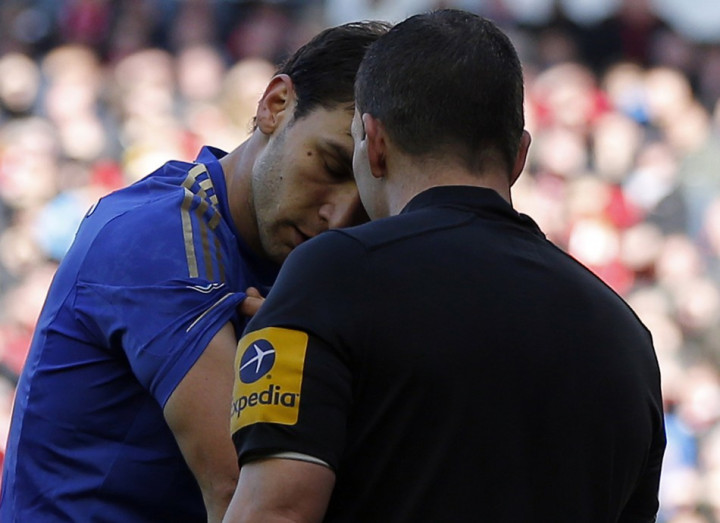 "I'm not aware of the incident. If there is clear footage then I'll make a judgement and comment when I've seen it, and I haven't seen it," the England international said after the match, as the pressure to severely discipline the former Ajax forward grows.
Former Liverpool legend Graeme Souness has already spoken out strongly against keeping Suarez at Anfield and has labelled the South American an "embarrassment" to the Anfield club. And what makes this whole situation so much worse for Suarez is that this is the second time he has been caught biting an opponent; the first was in the Eredivisie, when he was playing for Ajax and received a seven-match ban for the offence.
Gerrard, meanwhile, insisted he only wanted to talk about Suarez's "genius".
"I'd rather talk about his performance in the second half and his performances from day one this season. He's been by far the best player in the league. He's just behind Ronaldo and Messi as the best players in the world. I'll talk all day about Suarez as a genius and a player," the midfielder told Sky Sports.
Gerrard sought to play down the biting incident by claiming there would always be controversial incidents in high-pressure matches.
"When you're playing against Chelsea in big Premier League games, it's going to get spicy. Other people want to talk about unsavoury incidents, but you're going to get nothing out of me," he concluded.
PFA Chief Condemns Incident
Meanwhile, Gordon Taylor, the PFA chief, labelled Suarez's actions "unacceptable" but he refused to be drawn on whether he would support disciplinary action. The FA are likely to open an investigation into the matter and will call on the Uruguayan to explain his actions.
"It was not good to see to say the least. It was unacceptable. His reputation for controversy continues to increase when he can be such a good player, one of the world's best, so it i[the question of disciplinary action] is a real dilemma now," Taylor told Sky Sports News.