Liverpool striker Luis Suarez remains hopeful of leaving Anfield but admits talks are yet to begin with Real Madrid regarding a reported £40m move to the Bernabeu.
The Uruguayan has reaffirmed his desire to leave The Reds this summer due to his vilification in the English press following a series of on the field controversies, the latest of which saw him banned for 10 matches for biting Chelsea defender Branislav Ivanovic.
Spanish reports have suggested Real have agreed a deal worth £40m to sign Suarez, but the 26 year old has refuted suggestions talks have begun over a move away from the Premier League.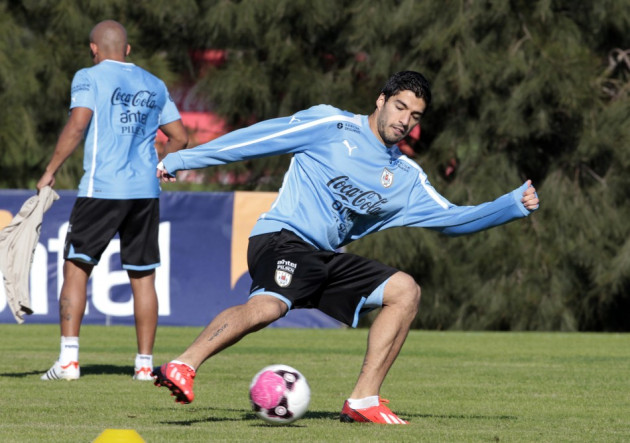 "It's a good moment for a change of environment because of all I've been through," Suarez said. "I do not know when I'm going and I do not know if I'm staying."
"I have only words of thanks to the club, the fans of Liverpool, but the treatment I received from the rest of England in recent weeks has been tough.
"It [Liverpool] is a spectacular club, but they are aware of the way that the press treats me."
"It is normal that it is impossible to say no to big teams for which one always dreams. Yet I have nothing, I have not spoken with Real Madrid nor with Liverpool.
"My agent has not told me anything either and that leaves me alone, but they [the media] are speculating.
"Every time you do something it becomes big. I just said I'm very happy at Liverpool and I'll be forever grateful to this great city and this club made me grow so much, where I still have a contract."
Despite his status as one of the division's most talented players - finishing second in the PFA Players' Player of the Year vote - Suarez's on the field behaviour has been regular scrutinised.
The ex-Ajax forward was banned for eight games for racially abusing Manchester United's Patrice Evra, while sporadic diving and handball offences, the most recent of which came in the FA Cup win over Mansfield, led to accusations of cheating.
His 10-match ban for biting Ivanovic in April, the second such offence of his career, saw him miss the remainder of Liverpool's season as well as the first six games of the 2013/14 campaign, raising questions of his future in English football.