Pippa Middleton knows a thing or two about upstaging brides. Before "breaking the internet" was a Kardashian-induced hobby, the Duchess of Cambridge's sister did exactly that at the 2011 royal wedding with her world famous bottom.
Middleton, now 33, apparently stole the limelight (well some, at least) from her sister Kate with her perfected deep bronze tan and custom-made Sarah Burton for Alexander McQueen maid of honour gown. Its beautiful design accentuated her feminine form to the utmost and was perhaps too flattering as far as the headlines from 29 April 2011 go.
Ahead of her big day on 20 May this spring to former British racing driver-turned-hedge fund boss James Matthews, Middleton doesn't want the same to happen to her. Shocker.
No Ring, No Bring
According to reports, Middleton let slip to friends that she was reducing the number of guests at her nuptials with a "no ring, no bring" policy. Ouch. This means that guests can only bring their partners if they are either engaged or married.
So what about life partners or guests in long-term relationships with no plans of marrying – are they banned too? Middleton may as well be holding a sign above her head stating: "No Meghan Markles At My Wedding!" in sheer desperation of saving her big day from unwanted Markle press attention.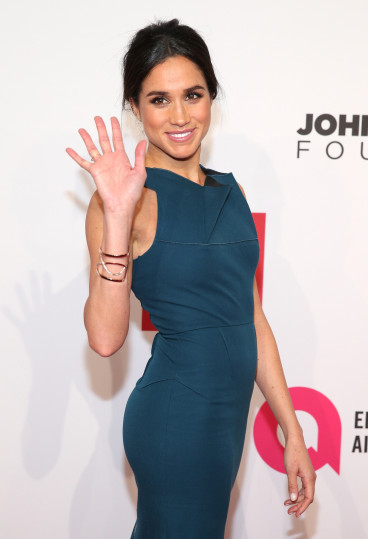 After seeing the media storm around the 35-year-old Suits actress' attendance at Tom "Skippy" Inskip and Lara Hughes-Young's wedding in Jamaica earlier this month, it's hard to blame Middleton for her angst.
Royal expert Phil Dampier gives Middleton the benefit of the doubt, telling IBTimes UK: "I very much doubt that she wants to ban her from coming. Having said that I think Pippa will want a relatively low-key wedding so most of it will be out of sight.
"It will be interesting to see if they sell it to Hello or anyone else. I'm sure that Meghan and Kate will do all they can, by say dressing plainly, not to overshadow her on the big day."
Markle steals the limelight
So you would think. But on attending Skippy's wedding in Montego Bay with Prince Harry, Markle didn't exactly remain coy about tailing her royal beau and making physical contact with him outside after the ceremony, knowing that cameras may be about. She also wore one of the boldest gowns we've seen on her to date.
Indeed, Markle didn't radiate a low-key aura on the day. Some may have opted for a simple yet elegant neutral dress and kept their distance from the prince as he mingled with friends.
But along with her flawlessly preened hair and make-up, Markle donned a £1,200 dress by duchess-favourite brand Erdem, which was the opposite of "plain". The floor-length number featured a very busy floral print in yellow, blue and black, and she completed the outfit with a headline-grabbing £5,000 gold Cartier Love Bracelet, presumably given to her by the 32-year-old prince. Middleton has quietly observed this and taken action.
No excuse, Middleton
Still, royal commentator Judi James is dubious about the "no ring, no bring" rule, and believes Middleton is wrong to disinvite Markle.
She told IBTimes UK: "If this is true, it appears to be a rather harsh rule for a wedding – or any wedding – especially in this era when couples are just as likely to live together as get married. I'm no expert on royal protocol, but Pippa is not a royal and her husband to be is the brother of a reality star so I'm sure rules can be as relaxed as they like!"
James also added that she is unfamiliar with Middleton's wedding rule, continuing: "Weddings often have a 'no babies or toddlers' rule, but there are some practical reasons for this if they don't want the service disrupted by tears and tantrums.
"Otherwise, what's wrong with an invite with a 'plus one' added? Is the whole Middleton clan happily – and smugly – married? A partner is a partner even if they're a new date let alone a couple as firmly linked as Harry and Meghan.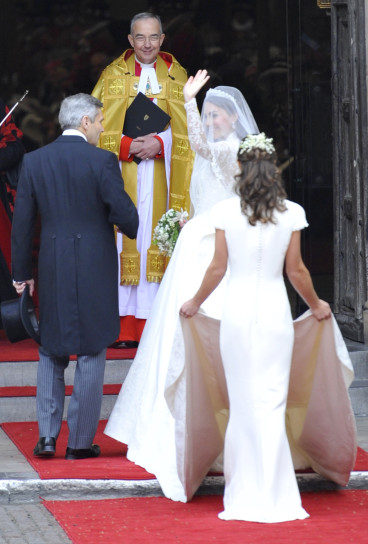 "The Middleton budget can hardly be so tight that singletons can't bring a partner? Will all unwed partners be banned or is this all really pointing to Meghan and some limelight robbing?
"It might be nicer to invite both Meghan and Harry and let them decide whether their presence will be too disruptive, but even then I'd hardly imagine Kate and her two children won't pull in enough press attention of their own," she added.
Unnecessary chaos
Friends claim that Middleton may not extend a late invitation to Markle to make life easier for everyone – including the America-born actress who is filming a seventh series of the legal drama in Toronto.
A source told the Mail: "She saw how all eyes were on Meghan rather than Lara last week. The situation was also stressful for Harry. Pippa and her mother Carole wonder whether Meghan's presence could cause a great deal of unnecessary chaos."
Another royal expert, Richard Fitzwilliams, told IBTimes UK that the rumour of disinviting Markle is presumably false, adding: "If true, it won't be specifically to exclude Meghan. This rumour seems to me to be malicious gossip."
The truth will no doubt bubble to the surface on 20 May...