Suits season 6 summer finale episode airs this Wednesday, 14 September at 9pm EST on USA Network. Episode 10 is titled, P.S.L, which will pick up with Mike Ross's release from Danbury prison and Harvey Spector figuring out a way to save his firm from
The official synopsis for the chapter reads as follows:
Click here to watch Suits season 6 via live stream on the USA Network. You can also watch theepisode online by clicking here (only in the US).
The promo for the episode opens with Harvey and Mike celebrating, as the PSL lawyer says, "Welcome home!" In the next scene, we see Mike, who was recently released from jail, kissing his fiancee Rachel Zane.
Things don't look good at PSL firm as Jessica warns, "Let's get back t the business of keeping this firm alive" as Harvey says, "Jessica we have a problem!" Louis Litt also warns everyone about PSL and says, "It's just a matter of time until all our clients think that" and later adds, "We are going to go out of business." The promo text reads, " A new beginning, or the beginning of the end"
Looks like Mike and Harvey will have to bring their old charm back to save PSL from going out of business.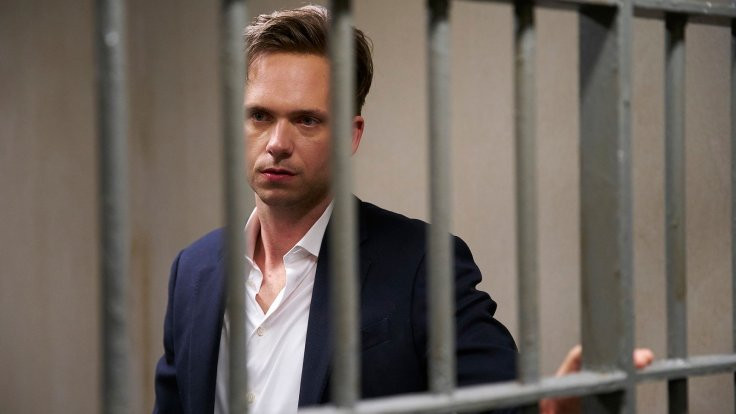 Previously, actor Patrick J. Adams (Mike) spoke to Entertainment Weekly about a potential Mike-Rachel wedding in near future episodes. He said, "When they left each other they were very much in love and they were obviously ready to take the big step and the only thing that was stopping them was really how much he loved Rachel. Obviously, he's been to prison and his reputation has already started to haunt Rachel's career and the direction she's going in, but again, not knowing what's going to happen, it would be surprising to me if we didn't start from a place of love with these two and trying to figure it out. "
The actor teased some conflict between the lovebirds and shared, "Some conflict will get in the way, but I think there's a lot of love and care there. I'm super excited as an actor to see what they come up with. These are two characters who have been apart for so long, and that, for me, is such a big part of the show. Finally, at the end of this episode, we get to see them come together and begin the rest of their lives together, whatever that may look like."