First look at Leonard and Penny's second wedding has been officially released by the CBS Network. The images also introduce fans to Penny's side of the family – Penny's mother Susan (played by Katey Sagal), brother Randall (played by Jack McBrayer) and father Wyatt (Keith Carradine).
The Hofstadter couple opts for a garden ceremony, with Penny wearing a white lacy dress and Leonard in a beige suit with a black tie. Sheldon, Penny and Leonard's entire family will attend the ceremony.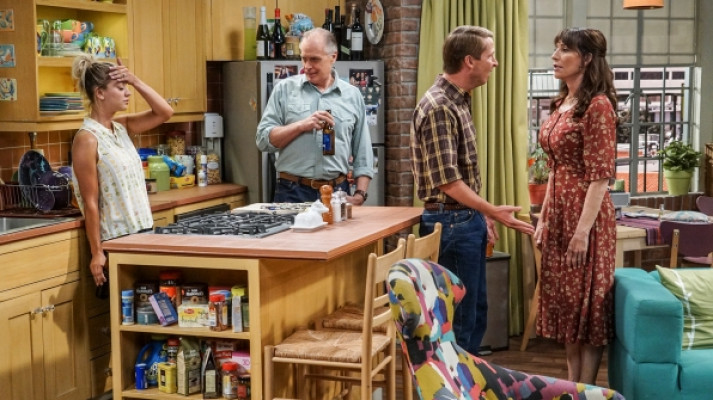 Showrunner Steve Molaro spoke to TV Line about the list of guest stars for episode 1 and revealed that the entire cast had a blast while filming the premiere episode. "The entire cast started to [calculate] the total number of TV episodes they have all been a part of, and it was over 4,000."
"Johnny [Galecki] texted me more than once from the [soundstage] just to say they were simply having the greatest time. Everybody was having a blast," he added.
Although the episode is a little heavy on the cast list, Molaro maintained that every one of the show's very special guest stars gets a chance to shine in the episode. "Every character on the show has something great to do," assured the producer and added that everyone's screen time "got nicely distributed."
The showrunner has high hopes for bringing Sagal and McBrayer back for a less crowded installment later this season. "Now that they are officially members of the Big Bang family,we would love to have them come back so we can service them with more time and energy than we could in the premiere," Steve added.
Fans will witness several tense moments in Penny's family during the wedding, according to Steve Molaro. The Big Bang Theory season 10 returns on 19 September at 8pm EST on CBS.