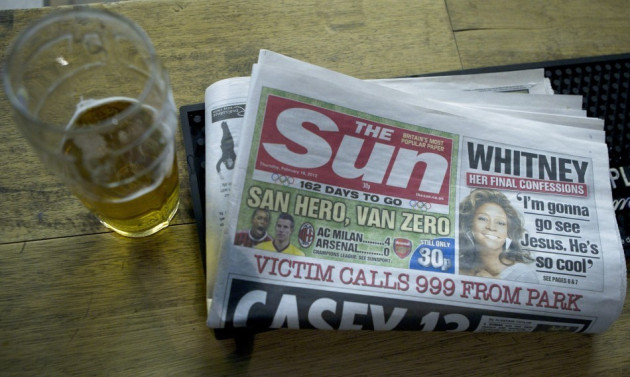 Two Sun journalists - including a former deputy editor - have appeared in court charged with making corrupt payments to officials.
Fergus Shanahan, executive editor of the News International newspaper, has appeared at Westminister Magistrates Court accused of authorising a journalist to make payments to a public official.
He appeared along with The Sun's royal editor Duncan Larcombe, who is accused of paying thousands of pounds to officials for stories about the royal family.
Larcombe, 37, of Aylesford, Kent, is accused of paying more than £23,000 to John Hardy, 43, and his wife Claire, 39, for royal family or army-related stories.
John Hardy served as a Colour Sergeant at the Royal Military Training Academy at Sandhurst.
Hardy, Larcombe and Shanahan face charges of conspiracy to commit misconduct in a public office between 9 February 2006 and 16 October 2008.
Speaking outside the court on his behalf, Larcombe's solicitor James MacWhirter said his client was "shocked and disappointed" to find himself charged.
Larcombe's statement read: "I hope to demonstrate that I am a responsible journalist who reported in the public interest.
"As a royal reporter I worked harder than any other at the Palace putting in place and ensuring the application of a series of criteria that had to be satisfied before a story would appear in my paper.
"For the past year I have had to remain silent but my aim now is to fight these allegations with every breath in my body in the hope that justice and common sense will prevail."
Shanahan, 58, from Felsted, Essex is also facing an additional charge of conspiring with a public official and a journalist to commit misconduct in a public office.
Shanahan, who worked as deputy editor of the Sun between 2003 and 2009, is the most senior current Sun journalist to face charges under the Operation Elveden inquiry into alleged corrupt payments to public officials.
Tracey Bell, 34, a former employee of the Ministry of Defence, also appeared in court charged with misconduct in a public office, while a bodyguard for former News of the World editor Rebekah Brooks stood accused of perverting the course of justice.
David Johnson, 47, of Mitcham, Surrey, appeared to face charges of concealing computers, and other items, from officers investigating claims of allegations of phone hacking and corruption of public officials in relation to the News of the World and The Sun newspapers.
All suspects have been released on unconditional bail to appear at Southwark Crown Court on 3 June.