The sunken South Korean ferry Sewol that was raised from the seabed after about three years has now been moved to a dry dock from a semisubmersible transport ship, the ministry of Oceans and Fisheries said on Sunday (9 April).
The vessel had sunk off the country's southwestern coast near Jindo Island on 16 April, 2014, leaving 304 people dead. It was carrying 476 people, mostly secondary school students when the disaster happened.
The bodies of 295 passengers were recovered in an operation that was called off in November 2014. Recently, some suspected human remains were also found after the wreck was brought out of the water in late March.
Nine victims are yet to be recovered. The ministry said search would resume after completion of the process of moving the ship onto land.
The loading process began at 9:00am local time (1am BST) following completion of the final safety checks for the transfer operation. At about 1am local time, it was safely moved to a dry dock. However, the complete transfer that involves safely anchoring the ship on land would end only by Monday (10 April) morning, Yonhap news agency quoted the ministry as saying.
The 6,800-ton ferry currently weighs around 16,000 tons due to accumulation of mud and water over the past three years.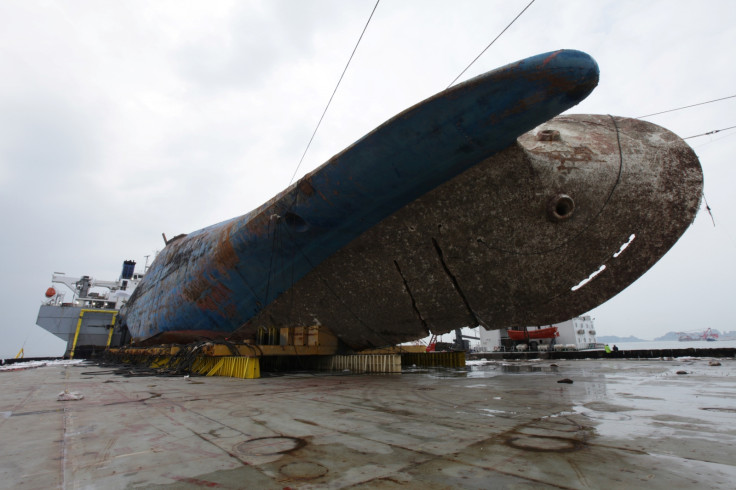 Soon after raising the sunken ferry out of the seabed, South Korean rescuers found six fragments of bone, measuring from 4 to 18 centimetres, on the deck, but they were not clear if they were remains of the victims of the ferry disaster.
Earlier, South Korean authorities said the ferry's wreckage was sent to Mokpo city where investigators will carry out a series of checks. Following the checks, they will start searching the ship for the remains of the other victims.