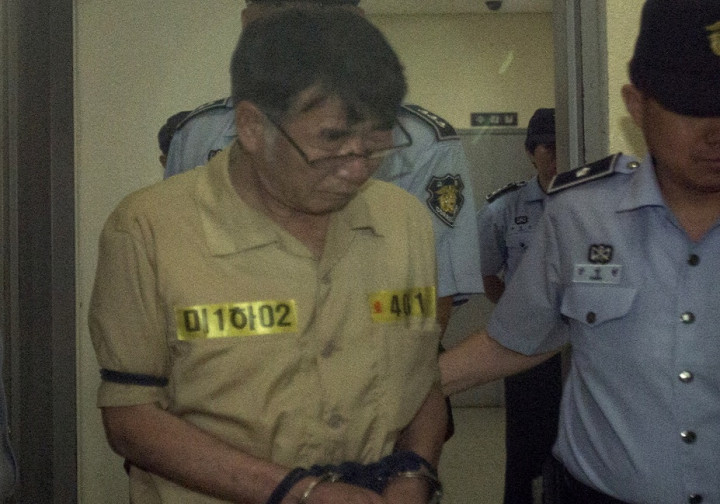 The captain of doomed ferry which sunk claiming more than 300 lives in South Korea dodged capital punishment as he was handed a 36-year prison sentence for being negligent and abandoning his passengers during the tragedy.
He was acquitted of homicide charges however.
A District Court in Gwangju, 265 kilometres (165 miles) south of Seoul, sentenced captain Lee Joon-seok, 68, to 36 years behind bars, while his chief engineer got 30 years and 13 other crew members received terms ranging from five to 20 years.
The 6,825-tonne, Sewol passenger ferry, carrying over 476 passengers, had been on a voyage from Incheon to the southern island of Jeju, a volcanic holiday destination when the disaster happened.
Some 304 people died, the majority of the victims being secondary school students on a field trip from the Danwon High School in Ansan City near Seoul.
The Sewol allegedly went down after a junior helmsman executed a sharp turn which caused the vessel to list badly.
Captain Lee and his crew were accused of delaying the abandon ship order, telling passengers to stay put as the vessel capsized. The order resulted in hundreds of passengers be trapped below deck.
Lee became a public hate figure in South Korea after video footage showing him abandoning the vessel with hundreds of passengers still on board emerged. He issued a public apology for the sinking and abandoning the passengers soon after the incident in April.
Prosecutors had sought a death sentence on homicide charges for the captain, although South Korea hasn't executed anyone in the past 17 years.
Hours before the ruling was reported by Yonhap news agency, the government had called off a nearly seven-month search for the bodies of nine missing victim, amid growing safety concerns.
Two divers have died after falling unconscious during searches.
"As our loved ones remain trapped in the cold waters, this decision is unbearably painful for us. But we requested that the search operations be stopped", Min Dong-im, 36, the wife of a missing teacher, tearfully said at a televised news conference.