In a massive salvage operation, the sunken South Korean ferry Sewol has emerged after being under water for three years.
The structurally unsound vessel capsized during a routine trip in the waters off Jindo island in one of the worst maritime disasters in South Korea. The tragedy, which shook the country in April 2014, left more than 300 victims, mostly schoolchildren, either dead or missing. Salvage operations were to be carried out in 2016 but were constantly delayed due to poor weather conditions. Bereaved family members of the victims have been calling for the vessel to be salvaged so as to conduct a thorough investigation. Still nine people are unaccounted for and authorities hope to find their bodies once the ferry is fully retrieved.
A part of the ship emerged after two salvage barges lifted the 6,825-tonne mud-coated ferry. "Part of the Sewol's structure, which is believed to be its stabiliser, was seen above the water with naked eyes," said a spokesperson with the oceans and fisheries ministry, according to Yonhap news agency.
A submersible vessel would now drag the hull to a nearby port. "It will take about eight days to lift the ship and move it to the port. And it will require four additional days to move it onto a dry dock," the spokesperson added.
Just minutes before it was lifted from a depth of 40 metres (130 feet), a trial was conducted by raising the 145-metre-long ferry for about one metre. Authorities want to lift the vessel intact. The entire process is estimated to cost about 85 billion won ($75m).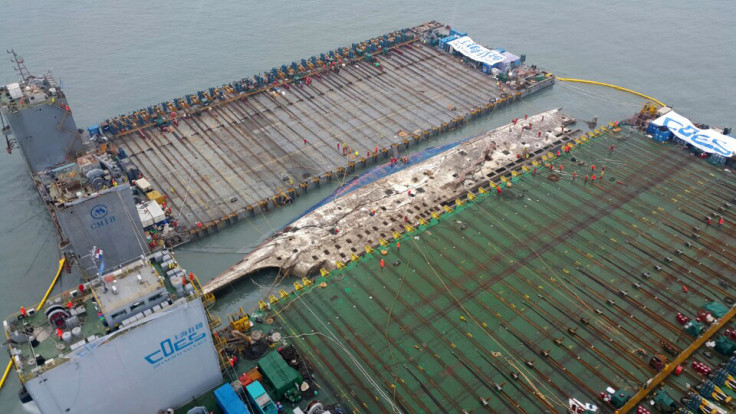 Some of the victims' families watched the operation from boats. "We thank all those who have supported us. We need you once again to pray for the safe salvage of the ship and return of the nine [passengers] who are still in there," said a family member at the start of the operation.
While the divers constantly monitor the situation under water, local weather conditions are also being reviewed so that the salvage operation goes as per plan.