Super Bowl 2015 movie preview: Star Wars, Jurassic World and Avengers footage expected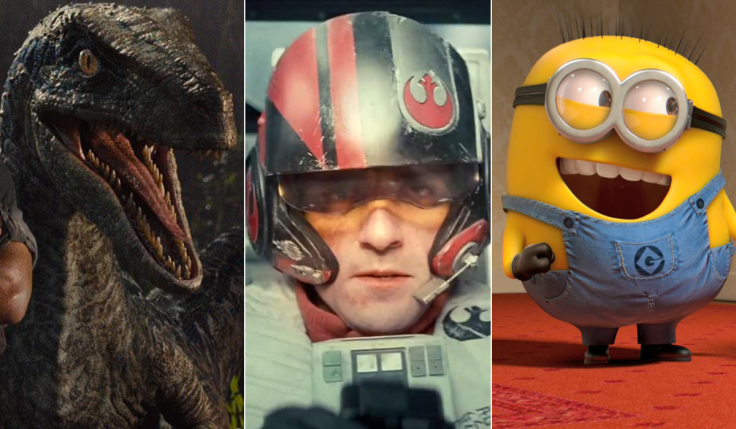 The Super Bowl has become an event that transcends the very sport it is all about.
It is an inescapable bonanza of pop culture, with the world watching to see who makes the best advert, how the half-time show performer does, what we might see of forthcoming movies and – for a small few – who wins a game of American football.
As the Seattle Seahawks take on slim favourites the New England Patriots, the entertainment world will look to the breaks in the actio, and how the powers that be decide to use the 30-second increments of TV time that cost them $4.5m (£3m).
With an estimated audience of 113 million in the US alone, what can we expect to see from the year's biggest films?

Jurassic World
One of the few films to announce a TV spot in advanced, Jurassic World already showed off a fair few dinos in its first trailer but has plenty of room to make a big reveal.
We could see the hybrid dinosaur hinted at in the trailer in full for the first time, or even a first glimpse at the T-rex that appears – according to recent leaks – to be the same T-rex that caused chaos in the first film.
It could also be a re-tread of the first trailer – but let us hope not.

Ted 2
Seth MacFarlane's foul mouthed teddy bear is back and this weekend we will get our first look at it. MacFarlane is back as director and provides the bear's voice opposite a returning Mark Wahlberg and newcomers Amanda Seyfried, Morgan Freeman and Liam Neeson.
Expect the humour to be toned down a bit for the family friendly sporting event.
Update: The trailer has since appeared online:
Minions
You do not have to go far to see the Despicable Me-spin-off's Super Bowl trailer. It has already been released.

Avengers: Age Of Ultron
We have seen a lot of Joss Whedon's Avengers Assemble follow-up already but, despite its stature as a guaranteed box office success, there's no way Marvel's latest epic will not make an appearance. We may even see Paul Bettany's Vision for the first time.

Star Wars: The Force Awakens
Less certain is Disney's other major blockbuster of 2015, the returning Star Wars franchise. Last November, the first trailer whipped up a storm of attention and should it choose to show something, anything, at Super Bowl XLIX, you can be sure it would overshadow any other films this list might have to offer.
Disney could even show a single still of Harrison Ford as Han Solo in the film for a second and that would get all the attention.

Tomorrowland
Trailer one for Brad Bird's Disney theme-pack-inspired sci-fi adventure showed very little, so with the film is only a few short months away from release, expect a lot of spectacular imagery to capture audience attentions.
George Clooney and Hugh Laurie star alongside young heroine Britt Robertson in what could be on the year's biggest hits. A stellar Super Bowl spot would help make that a reality.

Fast & Furious 7
Another film we have seen little of (one loud, bonkers trailer compared with a teasing one like Tomorrowland) that will be with us very shortly.
Expect cars to go fast, explode and flip, The Rock and Vin Diesel will punch things in the head and some poignant shots of the late Paul Walker.

Terminator: Genisys
Super Bowl TV spots need to make an impact with a casual audience in the short time they have and, like Star Wars, Terminator Genisys has an actor returning to an iconic role.
Expect Arnold Schwarzenegger to be front and centre of any new footage, possibly taking on a younger version of his android self.
Update: The trailer is here:
---

Mad Max: Fury Road
Initially labelled as a pointless reboot, Mad Max: Fury Road has won people over with some visually spectacular trailers. No need to show us anything different in a Super Bowl spot.
Tom Hardy stars alongside Charlize Theron.
---

San Andreas
The Rock versus a whole bunch of rocks as the San Andreas fault decides to shake things up in California. We are hopeful for an old-school disaster flick without an abundance of CGI and green screen - a TV spot reflecting that would be perfect.
© Copyright IBTimes 2023. All rights reserved.