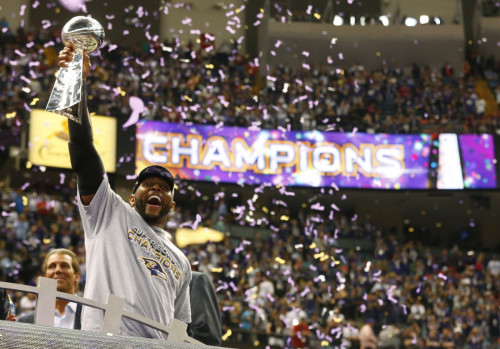 Sunday's NFL Championship game – better known as the Super Bowl – takes place Sunday, 2 February.
The game between the Seattle Seahawks and Denver Broncos will be watched by an estimated 110 million people in the United States ALONE and kicks off here at 11:25pm GMT.
For us the action doesn't take place until late in the evening, meaning a night of keeping sleep at bay and a very, very tired Monday. Let's admit it though, it is definitely worth it.
Here's where and how to watch in the UK.
---
Television
---
Channel 4, 10:30pm
Channel 4 have nabbed the Super Bowl rights from under the BBC's noses, and have Colin Murray on hand presenting the event.
Sky Sports 3, 10:00pm
Sky Sports continue their annual coverage with Kevin Cadle presenting.
---
Radio
---
Absolute Radio 90s, 10:00pm
Absolute have exclusive radio coverage of the event until its conclusion at roughly 4am. They'll be talking to the Red Hot Chilli Peppers ahead of their participation in the half-time show alongside Bruno Mars.
Also on hand are Simpsons and Spinal Tap actor Harry Shearer and TV presenter Vernon Kay.
---
Public Bars/Pubs/Clubs
---
The Social, 5 Little Portland St, London, W1W 7JD
It'll cost you £8 entry to get into the bar but every penny they make from the charity night goes to Amnesty International, so does your swigging beer, munching on hot dogs and yelling at linebackers - all in a good cause.
Roxy, 128-132 Borough High Street, London, SE1 1LB
£5 entry and you'll be able to watch on enormous, cinema-sized screens with an excellent sound system. Sure to be packed to the rafters with NFL fans, this will be an incredible way to catch the big game.
Black Dog Ballroom, 43 Oldham Street, Manchester
Free entry, free chicken wings and free pizza. You want more reasons to go? You don't need any.
Walkabout Bars, across the country
Riley's Sports Bars, across the country