Supergirl is still trying to find her spot as superhero in National City and Superman showing up to help her goes to prove she cannot stand on her own. In episode 3, when Kara Danvers is beaten by Reactron, Man of Steel shows up to help her sister.
Executive producer Andrew Kreisberg talks about National City's Superhero, and Superman's limited appearance in an interview with Comic Book. Kreisberg said, "The show's call Supergirl and it's about Supergirl. It's not like we've been jonesing to have Superman on it."
Speaking about Superman's casting, the producer dished, "We also didn't want to...you know, if you're going to cast Superman, you've got cast Superman right! Just like when you think about all the time and effort and energy that's gone into finding the cinematic Superman over the last thirty years."
Superman is an idea than a personification of a character teased Kreisberg. "For us, Superman is more of an idea than it is a personification of the character, so we're more than happy to have him backlit. We're perfectly happy to have him swoop in, save Kara in Episode Three, because the real heart of the story is that she then kicks Reactron's butt. She's the one that takes him down, and that's what much more important for us."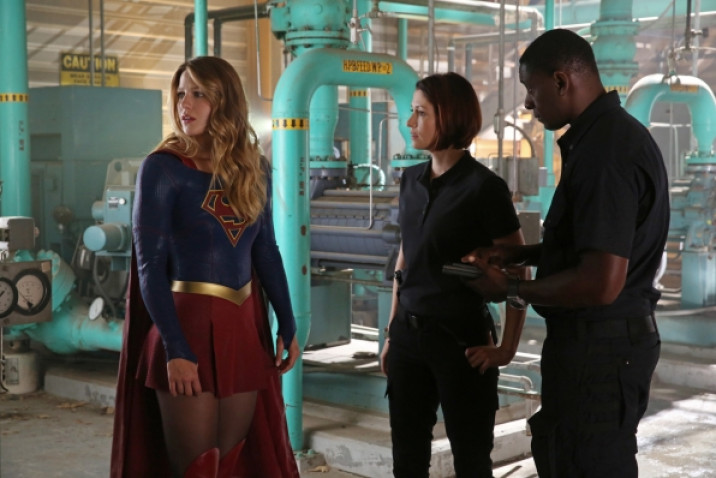 Fans should not expect too many Man of Steel appearances as Kreisberg noted, "...It's not like we've been asking for more Superman or can we do it like this or can we have him in this. For us, we're perfectly happy with the amount of Superman that we've had because it's the exact amount that we've asked for."
There are a lot of theories about Hank Henshaw's real identity in the series. Henshaw is the head of DEO [Department Of Extra-normal Operations] but is spotted with Red creepy eyes in some of the scenes. While some fans think he is the Cyborg Superman, other theories claim he could be Martian Manhunter. Andrew Kreisberg teased that they are "borrowing a page out of our own playbook with the way we treated Tom Cavanagh's [from The Flash] character."
The producer added, "We had somebody where you weren't sure who they were and people started to speculate. There were early fan theories that Tom was actually Barry from the future. I think it's fun for people to try to guess at some of these surprises. Obviously we don't want to give spoilers away but I think speculating on that stuff is part of the fun of being a fan. Certainly none of us here are interested in taking that away from people."