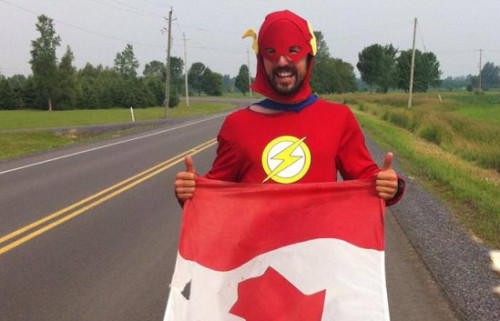 A British man who set out to run 5,000 miles across Canada dressed as a superhero for charity has completed his journey.
Jamie McDonald ran the equivalent of more than 200 marathons in 275 days dressed as comic book hero The Flash, to raise money for children's hospitals in the UK and Canada.
He began his journey at the Atlantic Ocean last March. He is believed to be the first person to complete the coast-to-coast journey across Canada to Pacific Ocean without any support.
Dubbed the Real Life Forrest Gump, the 27-year-old from Gloucester had to endure temperatures as low as -40C, was forced to sleep rough on several occasions, went through 13 pairs of trainers and suffered permanently injuries to his feet during his run.
He also found time to stop off at several schools along the way to give motivational talks to the pupils.
McDonald pushed his 60kg (143lbs) baby stroller "Caesar", carrying all his possessions, for more than 4,500 miles. He began the journey by carrying a 30kg backpack, but had to change tact when the weight caused an injury.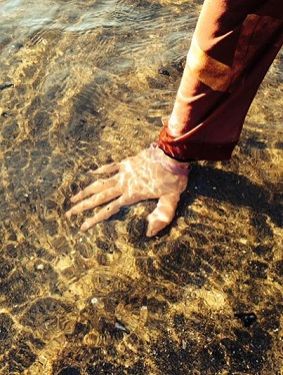 McDonald was also attacked and robbed of his bag in Alberta, but luckily all his possessions – including his camera and all his money – were later found and returned to him.
"I just can't believe it's over," McDonald said.
"I have worked for so long and given this run everything I have, physically and mentally, that to finally dip my hand into the Pacific Ocean eleven months and more than 200 marathons after doing the same thing in the Atlantic Ocean is just incredible.
"I feel a real mix of emotions. I'm ecstatic that I have finished. I'm honoured to have met so many amazing people in what is truly a beautiful country. I'm humbled by the support people in the UK and Canada have given me.
"I'm hopeful that my run has and will inspire people to know that we can do whatever we put our mind to. And, of course, I'm sad that it's over as it's been such a big part of my life and I'm uncertain about what happens next."
His charity run has raised more than £100,000 for children's charities.
He said he made the decision to attempt to run after wanting to give back to the hospitals after suffering as a child from a debilitating immune deficiency, epilepsy and a rare spinal condition called syringomyelia that had him in and out of hospital until the age of nine.