Supermarket giants Morrisons, Tesco and Asda set to cut diesel to under £1 for first time in 7 years
Three of the UK's largest supermarket chains Tesco, Asda and Morrisons will be selling diesel at less than £1 a litre for the first time since 2009. As of 4 January three of the UK's most popular supermarkets will be selling diesel at 99.7p per litre the lowest price since before the financial crisis.
In the weeks leading up to Christmas petrol prices dipped below the £1 mark – reflecting the fall of the cost of oil which has plummeted to its lowest price for 11 years but diesel prices remained stagnant. For example, UK Brent crude oil is trading at below $38 (£26, €35) per barrel, having lost 35% of its value in the past year.
Diesel green tax
Diesel drivers will no doubt be happy with the cut in price, especially as this year the UK government announced plans to charge diesel drivers a "green tax" if they were to travel into city centres. But despite the landmark drop the RAC have said that the move should have been made earlier.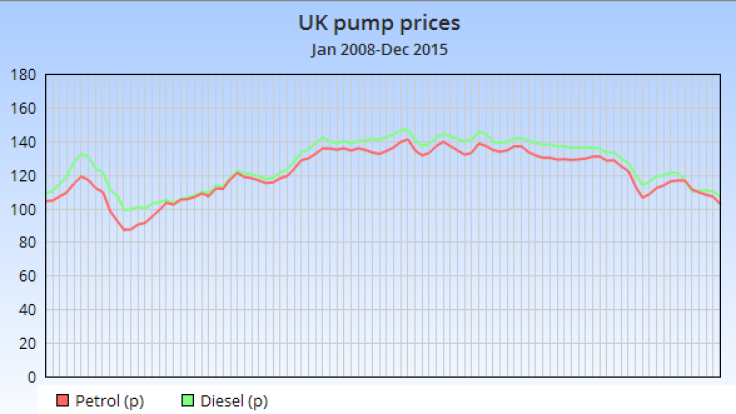 UK prices of fuel at pumps in pence – Jan 2008-Dec 2015
UK Department of Energy and Climate Change
Fuel Watch, which monitors the price of oil and its relation to forecourt prices for the RAC, has said that there has been too much disparity between the price paid at your local petrol garage and the dramatic dip in the price-per-barrel. But around 75%, of the cost of fuel at a petrol garage goes to the Treasury in duty and VAT.
The oil industry argues that once refinery costs, distribution and retailers' profits are factored in this leaves just a small percentage of profit for producing the commodity. The motorists body said that the price of diesel should have been cut earlier in line with that of petrol.
A spokesman said to the BBC: "Diesel drivers will clearly welcome this move by the big supermarkets, although it would be fair to say it is overdue.
"We hope that other supermarkets and the cheaper fuel retailers will follow suit and do the right thing for motorists. This should reduce the average price of diesel for motorists everywhere who will benefit from the low price of crude oil."
Peter Cattell, the fuel director for Tesco, which has 500 filling stations up-and-down the country, said: "Having diesel for 99.7p a litre will give our customers a big helping hand for the new year. This reduction will mean millions of customers save money by shopping at Tesco."
© Copyright IBTimes 2023. All rights reserved.