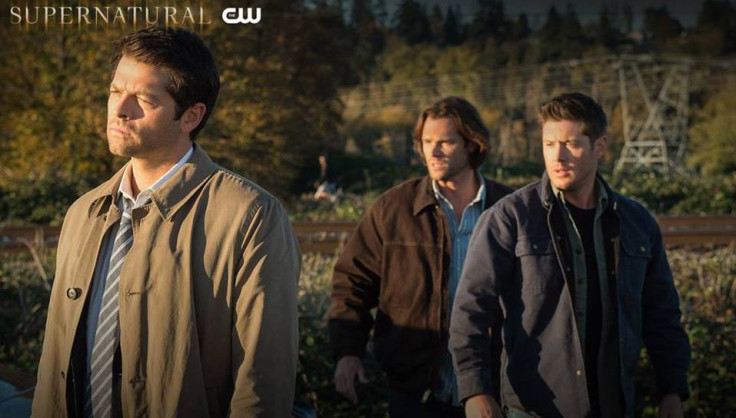 Misha Collins has shared some big details about Supernatural season 12 filming. According to the actor who plays Angel Castiel on The CW show, his co-actors, Jensen Ackles and Jared Padalecki have wrapped filming and it was Collins last day of the shoot on 28 April.
Ackles and Padalecki play Dean and Sam Winchester in the show. Alongside a selfie, where he's dressed in Castiel's iconic trenchcoat, the 42-year-old actor wrote, "How was the ep, east coat? I'm last man standing. @jarpad, @Mark_Sheppard, & @JensenAckles all wrapped. Last day, #Supernatural season 12!"
Castiel returned from Heaven in this Thursday's (27 April) episode of Supernatural season 12 titled, The Future, where he teamed up with Kelly and made the bold choice of letting Lucifer's baby be born, believing that it would bring good on Earth. However, in doing so, he nearly betrays Sam and Dean Winchester, as he zapped them and leaves with Kelly. So, will the Free Will team get back together? Can Lucifer's baby really bring good?
Previously, speaking about Castiel's return, executive producer Andrew Dabb told TV Line, "When Cas comes back [in this Thursday's episode], we're going to get a lot of clarity in terms of not only why he's been in Heaven for so long, but his own point of view on why he went."
Dabb continued, "So from Cas' point of view, everything he's been doing has been for Sam and Dean. When he comes back in, that will be made pretty clear, and then the question is: Where does he go from there? Once he comes back in, he's going after Kelly. Once he comes into contact with her [and] her kid, a lot of his misconceptions may fall away."
Further revealing Castiel's motives, the producer added, "A big part of his time in Heaven has been gathering information, but not reorienting his thinking to the point where he's against Sam and Dean or anything like that. It's more like having moments of clarity in terms of why he's doing this and the price he, personally, is willing to pay to keep Sam and Dean alive or to keep them from experiencing pain."