US police have scored a major success in dismantling one of the most violent gangs in California - the Sureños gang.
More than 600 suspects have been arrested by the Homeland Security Department's largest crackdown on street gangs, Immigration and Customs Enforcement officials in the US said on Thursday.
The arrests were made as part of a month-long crackdown on street gangs in almost 200 cities across the country.
Authorities targeted 175 orgainsed gangs, including the notorious Sureños gang, known as the Sur 13.
The gang, which is said to be recruiting new blood at its fastest rate ever, specialises in murder, extortion and drug trafficking - leaving a trail of bloodshed across California in its wake.
It has risen from a California-based operation to having tentacles stretching the length and breadth of America.
Heavily tatooed, inherently racist and armed to the teeth, Sureños, which in Spanish means 'south', consists almost exlcusively of Hispanic Americans and has fought a deadly long-running street war against a long list of rivals: Norteños, Nuestra Familia, Fresno Bulldogs, Bloods, Latin Kings, Puro Tango Blast, Los Zetas, and the Asian Boyz.<sup>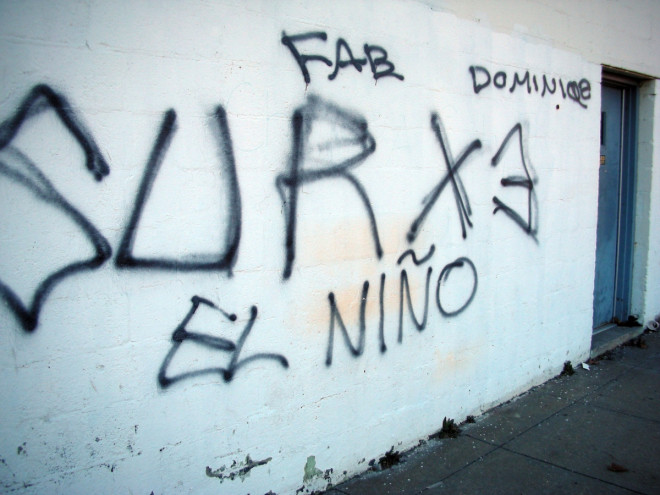 Bloody history
The Sureños emerged in 1968 in the south of California, comprising of factions of Hispanic gangs that pay tribute to the Mexican mafia.
The name Sureños was not used until 1970 after tensions with rivals the Norteño gang reached boiling point with a series of mass brawls in and out of prisons.
From then on Hispanic gangsters aligned themselves with either the Sureños or Norteño gangs, cementing a classic 'north vs south' conflict.
Over the years, however, the gang has become more multi-cultural and accepts members from other ethnic backgrounds and even though the gang operates under the broad Sureños name, there are rivalries within the gang that have resulted in deaths.
There are now a reported 30,000 gangsters fighting for supremacy alongside the Sureños and members who have tried to leave the criminal life have told how they have been threatened with death if they turn their backs on street gangs.
Appearance
Surenos members represent themselves with a number of phrases and symbols. Sur 13 "Sureno Trece" and "Los Surenos". Additional identifications include the color blue, the numerical number 13, representing the alphabet letter M, standing for the Mexican Mafia, and XIII.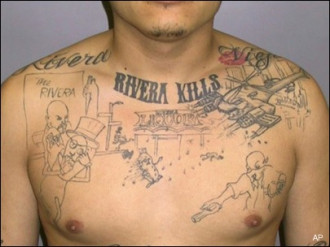 Common tattoos include Sur, XIII, X3, 13, Sur13, uno tres, trece and three dots. Fully fledged members of the gang also have ink that that proves or validates their membership. The word Sureño or Sureña, for female members, must be earned.
The California branch identify themselves with the color blue and greyy and wear sports clothing from teams such as the Los Angeles Dodgers, Los Angeles Clippers, Los Angeles Kings, Los Angeles Lakers, San Diego Padres, San Diego Chargers.
Violent crimes
Gang members have been convicted of murder, robbery, organising prostitution rings and kidnapping. In some of the most extreme cases members have killed their own family to make headway with gang leaders.
Violence not only pours onto US streets, but once members are jailed, rivalries with fellow inmates continues behind bars and has lead to officers being attacked and large-scale rioting.