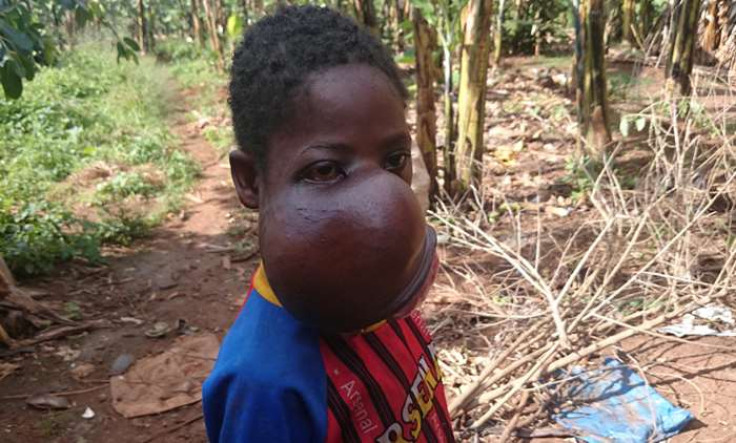 The Boy With No Face captivated viewers and left many appreciative for what they have in life. Channel 5 did not fail to fascinate and intrigue with its latest episode of Extraordinary People, as Tuesday night's (4 October) instalment explored the life of 17-year-old Erick John Rwabirire from Uganda.
Erick was born with a rare bone disorder that resulted in a tumour on his face. It grew so large that it was the same size as his head – and was continuing to grow bigger. The moving documentary revealed the daily hardships for Erick – who was unable to drink, eat or breathe normally.
One viewer wrote on Twitter: "You are one strong boy Erick!!! Puts life back into perspective. #extraordinarypeople," while another put: "So much respect and admiration for the medical team #theboywithnoface".
Erick was cruelly dubbed "The Moose Boy" in his village because his tumour had distorted his facial features. The brave young man's only chance for survival was a 24-hour high-risk operation which he only has a 50% chance of surviving.
Last night's show saw him undergo the surgery with much success as he and his family travelled to London's Chelsea & Westminster hospital for the operation. Many viewers took to Twitter to express their delight in the medical team's efforts.
One person tweeted: "That surgeon deserves a medal. Honestly an absolute hero...and Brian! #ExtraordinaryPeople," while another added: "So much respect and admiration for the medical team #theboywithnoface #ExtraordinaryPeople".
A third added: "Poor boy #theboywithnoface for 14yrs - so much respect 4these surgeons ...& what a grt guy the missionary man is #Brian #ExtraordinaryPeople".
The team used ground-breaking surgery to rebuild the teenager's face and ultimately save his life. The top cranial-facial surgeons who performed the surgery were headed by Niall Kirkpatrick and Simon Eccles. They used new techniques to rebuild Erick's face over 24 hours – maximising Erick's survival rate – with the surgery falling into the "kill or cure" category.
Channel 5 have followed Erick's story since spring 2015. Jazz Gowans, managing director of Transparent Television said: "Erick is indeed an extraordinary person – his remarkable spirit and infectious love of life means that all who meet him not only fall in love with this young man but are also determined to make his life better whatever it takes."
Extraordinary People continues next Tuesday at 10pm on Channel 5.