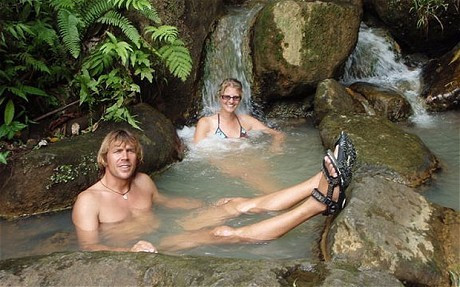 The suspected cannibal killer of a German tourist whose bones and teeth were found on a South Sea island has given himself up after a 50-day hunt.
Henri Haiti, 31, vanished after the charred remains of Stefan Ramin, 40, were discovered by a campfire at Nuku Hiva in French Polynesia. Rumours then began to speculate that he had been eaten by cannibals.
Haiti turned up as his father's home and told him to call the police. He will appear before court accused of murder and sexual assault.
"In the end the pressure of the hunt was too much for him," said local prosecutor Jose Thore.
Ramin visited the island as part of a round the world sailing expedition with girlfriend Heike Dorsch.
Dorsch, 37, who is now back in Germany, said Haiti and Ramin went into the forest to hunt goats together and the German sailor never returned. Haiti returned on his own to tell Dorsch that here had been an accident and that Ramin had been injured.
Dorsch claims Haiti then chained her to a tree and attempted to rape her, but she managed to escape and raise the alarm.
Among the embers that were discovered in the campfire were bones including a jaw bone, teeth and melted metal, believed to be fillings.
Locals have denied that cannibalism takes place on the island of Nuku Hiva, but speculation has been rife that Haiti, who has a tattoo of a cannibal warrior on his chest, ate parts of his alleged victim.