Police in New Hampshire have identified a drifter who died in prison in 2010 as a probable serial killer. Bob Evans died in a California prison where he was serving 15-years-to-life for the 2002 murder and dismemberment of his wife Eunsoon Jun.
Now Evans has also been named as a suspect in the disappearance of Denise Beaudin, with whom he lived in Manchester, New Hampshire. She disappeared in 1981 aged 23, leaving behind Evans and her infant daughter.
Her family thought she had left town because of financial problems.
Evans lived with the baby for several years after Beaudin vanished. He gave the toddler away to a family in a California RV park and she was adopted. She is now in touch with relatives in New Hampshire but does not wish to be identified, the New York Daily News reported.
Evans has also been linked to the discovery of four sets of remains in Allenstown, New Hampshire. A hunter found the body of a woman and a girl aged nine or 10 in oil drums near Bear Brook State Park in 1985.
In 2000 the bodies of two more little girls — aged between two and four-years-old — were found in another oil drum nearby. All are thought to have been killed between 1980 and 1984. The woman is thought to have been the mother of two of the girls, but none have ever been identified.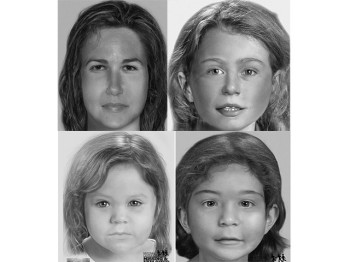 DNA evidence has now proved that Evans was the father of one of the children found in the oil barrel. He also worked as an electrician for a man who owned the property on which the barrels were discovered.
Evans, who New Hampshire police describe as a "chameleon", used at least five aliases as he moved around the country and there are fears he may have committed other killings. His real name and date of birth are still unknown.
"We believe we have our killer of the Allenstown victims and Denise Beaudin. Now we need to try to identify and find all of his victims," said Senior Assistant Attorney General Jeffery Strelzin at a news conference, according to the Union Leader.
However, Strelzin continued, the man known as Bob Evans "will never face true justice for what he did."