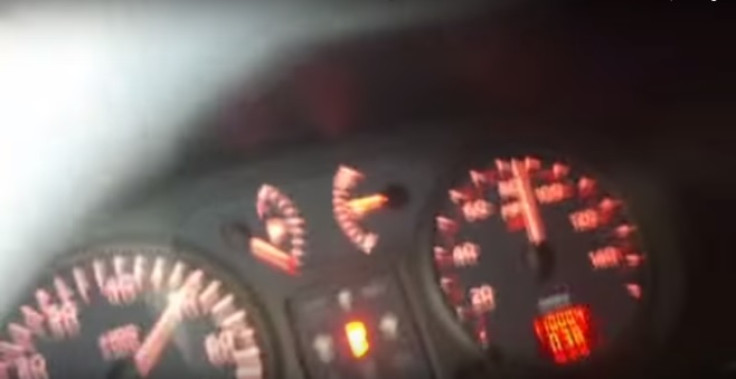 Police has released footage taken from a man's mobile phone showing the moment he and his friend careered off a country road while high on drugs into an Sussex church wall instantly killing them.
Kyle Careford, 20, and friend Michael Owen, 21, died when the red Renault Clio they were racing in crashed into the wall in the early hours of April 12 and overturned.
The pair, from Tunbridge Wells, had taken a cocktail of prescribed and illegal drugs that a coroner said would have resulted in severe toxicity and have had a severely detrimental effect on Careford's ability to control the car, which belonged to Owen. This was compounded by his inexperience - he did not have a licence and was uninsured to drive the car.
In the video, the pair can be seen and heard laughing, chatting and singing as Michael appears to be giving Kyle a driving lesson as they pass through Rotherfield and on in to Jarvis Brook where their journey came to a tragic end. Owen can be heard saying "keep going" and "come on" before, in some of the final words spoken by either man, he urged Careford to "slow down bruv".
The car, travelling well in excess of the 30mph speed limit, careered off the B2100, smashing through a wall into the grounds of St Michael and All Saints church. Both men, who had been wearing seat belts, died instantly. At the scene a woman's muffled voice can then be heard asking "can you hear me?"
The video was retrieved from Michael's phone found under a tree at the crash scene the following morning.
Witnesses reported seeing the car at various times in the hours leading up to the crash. A lorry driver reported how he had been blocked by the car that had randomly stopped in the carriageway and then sped off as he tried to manoeuvre around it; a taxi driver said that he had been forced off the carriageway by a speeding red car on the wrong side of the road and a woman had witnessed the car performing doughnuts in a Crowborough car park. The coroner recorded a verdict of death by road traffic collision on both men.
Chief Inspector Phil Nicholas from the Surrey and Sussex road policing unit, said: "I can not overstate the courage of both families in working with us to release this video and to add their words and thoughts about it. Sadly, my officers have to deal with the aftermath of fatal collisions on an all too regular basis, but the loss of two young lives in this incident in such circumstances is in equal measure shocking and frustrating. As Kat and Zac have so poignantly expressed, if the release of this incredibly impactive footage results in lives saved, then it will be a valuable legacy of Michael and Kyle's sad deaths."