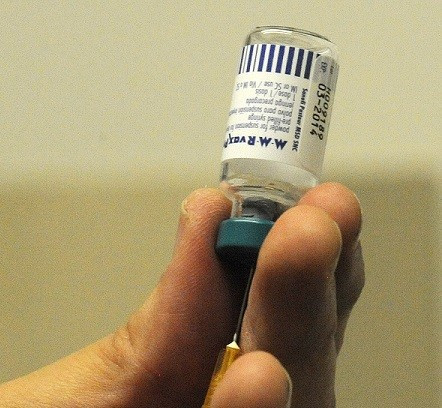 It has been confirmed that a man who died in Swansea during the measles outbreak had been suffering from the disease.
The 25-year-old, named locally as Gareth Williams, was found dead at a flat in Port Tennant Road, Swansea. Police said he had suffered a "sudden and unexplained" death but were not treating his death as suspicious.
Tests have now confirmed that Williams had been suffering from measles at the time of his death. Further tests will be needed to confirm the exact cause of death.
Dr Marion Lyons, director of health protection for Public Health Wales said: "Laboratory tests have today confirmed a diagnosis of measles in a 25-year-old male from Swansea who died on 18 April.
"The tests confirm only that the deceased had measles at the time of his death. Further investigations are being undertaken by the Swansea Coroner to establish the cause of death.
"My sympathies are with the family at such a tragic time. Whatever the cause of death in this case, we should not be surprised if, as the outbreak grows, we start to see deaths in Wales."
If confirmed, the 25-year-old would be the first person to die in the measles outbreak in South Wales.
The measles epidemic is the biggest seen in the country in two decades, with more than 800 confirmed cases in Swansea and neighbouring Neath Port Talbot and Bridgend areas - 77 of whom have needed hospital treatment.
Lyons added: "Measles is a potentially fatal disease and around one in every 1,000 people who contracts measles in developed countries will die.
"Those not fully vaccinated with two doses of MMR are highly likely to catch measles, which is highly contagious. We know that there are unprotected people in all age groups but we have particular concerns about the 10 to 18 age group. We are therefore urging all parents of children who have missed doses of MMR to arrange vaccination for them as a matter of urgency.
"The MMR vaccine is recommended by the World Health Organization, UK Department of Health and Public Health Wales as the most effective and safe way to protect children against measles. The alarming numbers of cases of measles and continuing spread of the disease in Wales illustrates how vital it is for parents to get their children vaccinated.
"Symptoms of measles include fever, cold-like symptoms, fatigue, conjunctivitis and a distinctive red-brown rash that appears a few days into the illness. Anyone who thinks they or their child may have measles should speak to their GP immediately."
A major vaccination programme has gone under way in South Wales to help stop the outbreak spreading. More than 2,500 received the MMR vaccination jab needed in clinics over the weekend.