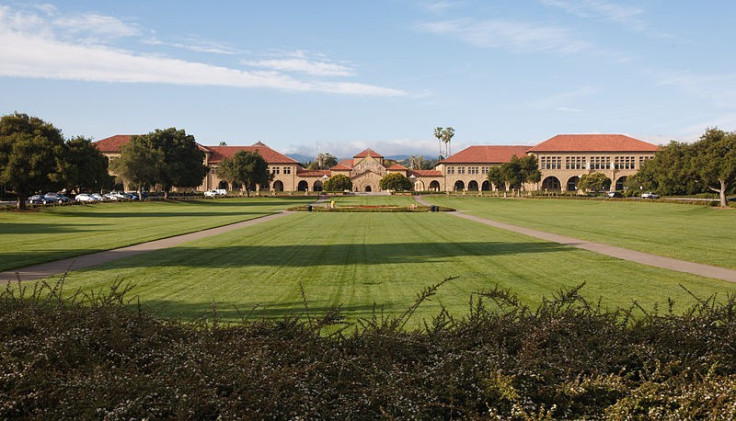 A series of swastikas spray-painted at California's Standford University are being investigated as a hate crime.
The vandalism follows a mounting controversy after the student government voted earlier this year to recommend that the university divest from corporations doing business in Israel because of human rights abuses.
The Nazi symbols and a pentagram were painted over the weekend on three student residences, including the Sigma Alpha Epsilon fraternity and Casa Italiana, reports the Los Angeles Times. One of the first students to spot the symbols, a member of the fraternity, immediately contacted the university and police.
Neither organization is exclusively Jewish, said the university administration. The fraternity last made news when it lost housing privileges for two years beginning next term in the wake of a sexual harassment investigation.
"I am deeply troubled by the act of vandalism that has marred our campus," university president John Hennessy said in a statement. "The university will not tolerate hate crimes, and this incident will be fully investigated, both by campus police and by the university under our Acts of Intolerance Protocol. This level of incivility has no place at Stanford."
No one has yet been arrested.
The campus has been hosting talks on anti-Semitism in the wake of a vote by the undergraduate Senate urging the university to divest from corporations complicit in human rights abuses "in Israel and Palestine." A current Jewish Latino candidate for the student council complained earlier this month that she was asked how her religion would affect her position on divestment when she sought an endorsement from the group Students of Color Coalition, which the organization denies. The student opposes divestment, and she didn't win an endorsement from the group, which supports divestment, reports the New York Times.
The university has launched an investigation into the coallition, which includes organizations representing blacks, Latinos, Muslims and Asians, following a charge that it asked candidates it endorsed not to affiliate with Jewish organizations, which it has also denied in an article in the student newspaper, the Stanford Daily.
Both the divestment debate and the complaints by the candidate have roiled the campus.
The Jewish Student Association is holding a demonstration later this week to raise awareness about anti-Semitism.