Swedish politician Patrik Liljeglod has alleged that he was "brutally treated and raped at knifepoint" by a man who did not share his left-leaning political views.
In a Facebook post on Thursday (14 September), the group leader of the Left Party in Falun, said the alleged assault took place at the end of July and the things his attacker told him clearly showed the attack was politically motivated.
"I was brutally treated and raped at knifepoint on the pretext that I was a left-wing [expletive], that people like us like this, and finally that I was a traitor," an English translation of his post read.
"The few words and sentences expressed by the man had a clear connection with me as a politically committed person and therefore it affects us all," he added.
He said the attack took place on a summer evening while he was walking back home from a get-togehter.
Liljeglod said initially he wanted to bury the incident so no one would ever know of his harrowing experience, but he finally opened up about it because it was his duty to alert his fellow party members and citizens.
"I stand here because, given my deeply rooted belief that democracy is an integral part of our society, I feel that I must," he wrote. He vowed that the attack would not dampen his efforts to fight for democracy, rather the incident has given him renewed strength.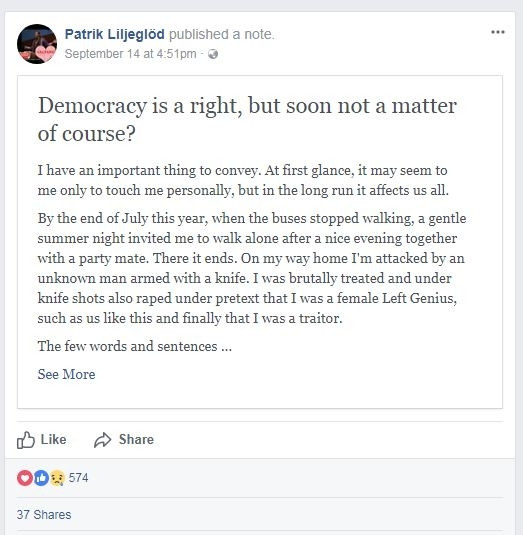 "Nothing is more important than democracy, people die for the right to democracy every day - and the right we have inherited through our parents' struggles, we have to continue fighting for," he wrote. "And we must remind those citizens who have forgotten why."
Police confirmed to local media that the matter was being investigated and added that if his claims were found to be true, the case would be treated as a "hate crime".
"If it turns out that the motive is his political allegiance then it is obviously a hate crime," police spokesperson Stefan Dangardt told Sweden's TT news agency. He added that a forensic team has examined the crime scene and were working on it.
No arrests have been made so far, Swedish national public TV broadcaster SVT said in a bulletin, the BBC reported.