Swing Copters Lands on iOS and Android Alongside Multiple Clones of the Flappy Bird Successor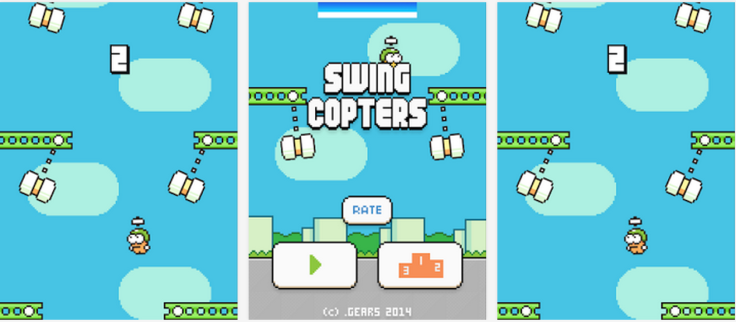 The follow-up to Flappy Bird is here, as are dozens of fake versions of the simple, yet devilishly difficult, smartphone game.
Having risen to global attention earlier this year when he removed the huge hit Flappy Bird from app stores, Vietnamese game developer Dong Nguyen is back with his next game called Swing Copters.
The game combines the simple controls and graphics of Flappy Bird with the rock-hard difficultly level which made Nguyen's last game such a hit, thanks to its "just one-more-try" addictivity nature.
Swing Copters launched on both iOS and Android on Thursday, 21 August though neither store has so far been updated with details of how many times the game has been downloaded.
Rated
So far the game has a rating of just 3.9 out of 5 on Google Play but a slighly higher rating of 4 out of 5 on Apple's App Store.
The experience of playing Swing Copters, which on first impressions is more difficult than Flappy Bird, can be summed up by this review on the Play store by Daniel Rode, who gave it five stars:
Terribly wonderful I hate this game so much, the only logical thing I can do is give it five stars. Great rage game!
Like Flappy Bird the game is free to download with just one in-app purchase costing 69p available to remove the in-game ads.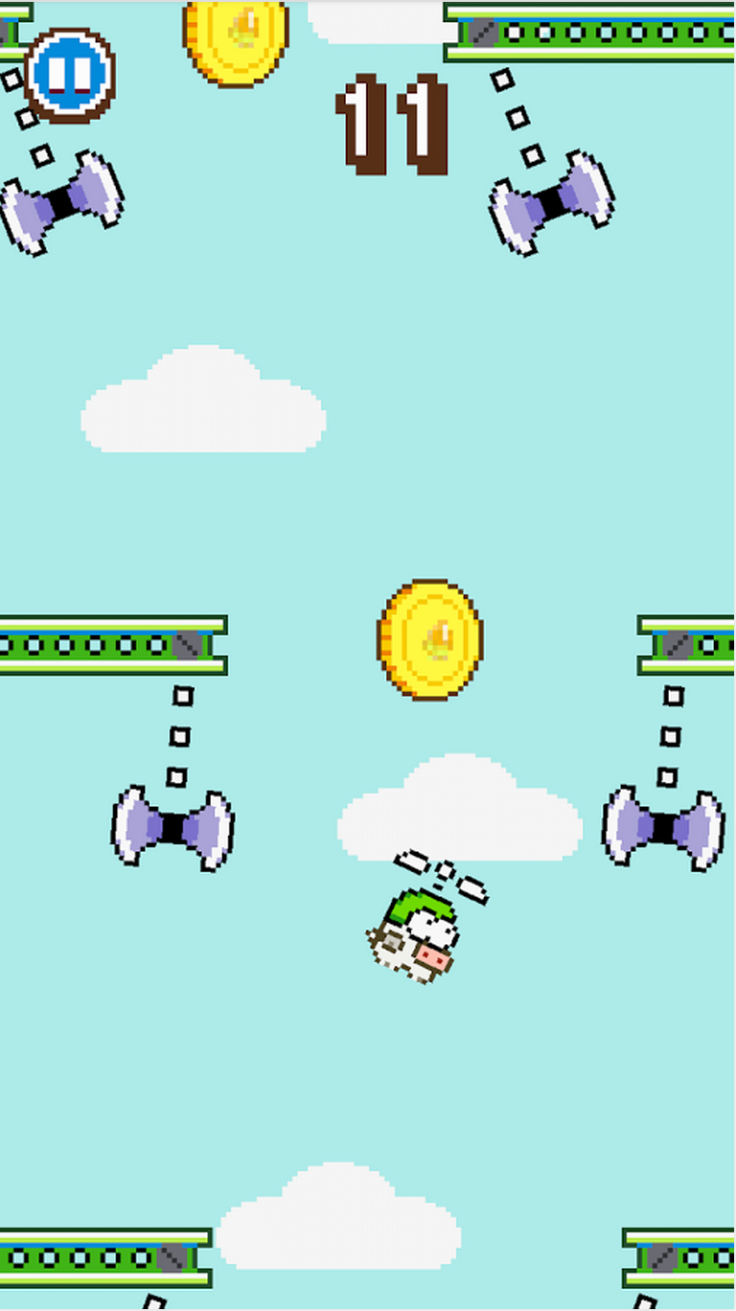 Piggy Copters, a Swing Copters clone
Google Play
Clones
Nguyen first announced the name of his new game on Twitter earlier this week, but even before he managed to publish the game, multiple imitators had appeared in both app stores.
More appear on Google's store, with games called Swing Copters, Swing Copter, Copters Swing, Piggy Copters and Copter Swing featuring graphics almost identical to Nguyen's game published hours before the real game was released.
On the App Store, there is a single game entitled Tube Revenge - Swing Copters available.
This mimics the release of dozens of Flappy Bird clones in the aftermath of the developers decision to remove the title from app stores.
The publishers of the clone apps are clearly looking to cash in on the success of Nguyen's business model, which was reportedly earning him over £20,000-a-month from in-game advertising on Flappy Bird.
Odds-on
Nguyen is odds-on to repeat that success with Swing Copter, with Paddy Power giving odds of 25-to-1 on for the game to top Apple's App Store downloads in the UK and more generous odds of 2-to-1 for the game to be downloaded more than 50 million times on Android.
Statistics from app analytics company App Annie show that Flappy Bird was not an instant hit. Having launched on iOS in May 2013, the game didn't experience its first substantial amount of downloads in any country until November 2013, which is when it started to see a smattering of downloads in the US.
"On Flappy Bird's flight path to No. 1, the game saw a significant swell in downloads on 13 January as downloads increased exponentially day-over-day. By January 17, Flappy Bird was the No. 1 app on the US iPhone top overall download chart," App Annie said.
However, with the huge amount of interest Flappy Bird and its developer gained in the wake of the game's removal last February, it is likely that Swing Copters will find success more rapidly.
© Copyright IBTimes 2023. All rights reserved.