The Nigerian government has confirmed that 21 out of the 219 girls kidnapped by terror group Boko Haram in April 2014 have been now rescued. The schoolgirls were kidnapped from Chibok, a village in Borno state, amid allegations they were sold as sex slaves, forced to marry their abductors and used as suicide bombers.
"It is confirmed that 21 of the missing Chibok Girls have been released and are in the custody of the Department of State Services, DSS," Garba Shehu, senior special assistant to President Muyhammadu Buhari said in a statement.
"The release of the girls, in a limited number, is the outcome of negotiations between the administration and the Boko Haram brokered by the International Red Cross and the Swiss government. The negotiations will continue," the statement continued.
"The President welcomes the release of the girls but cautioned Nigerians to be mindful of the fact that more than 30,000 fellow citizens were killed via terrorism. Malam LAWAL wants the girls to have some rest, with all of them very tired coming out of the process before he hands them over to the Vice President,Professor Yemi Osinbajo." Shehu added the names of the girls will be released shortly.
Although the Chibok abduction was not the first mass-kidnapping carried out by the terrorists, it was the only one that attracted international outrage. It led to the creation of the global movement Bring Back Our Girls, which shone a spotlight on the deadly insurgency of Boko Haram that had previously been under-reported.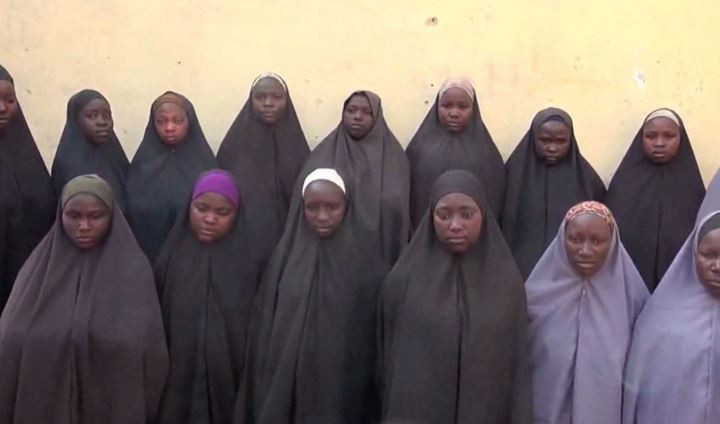 In August, Boko Haram released a video purportedly showing some of the Chibok girls. In the video, a Boko Haram militant called on the government to release militants who had been arrested in return for the release of the girls.
The video came as Boko Haram split into two factions after the group's ally, the Islamic State (Isis), appointed Abu Musab Al-Barnawi as its new leader. Abubakar Shekau, who has been leading the group since 2009, denied he had been replaced and vowed to continue his fight.