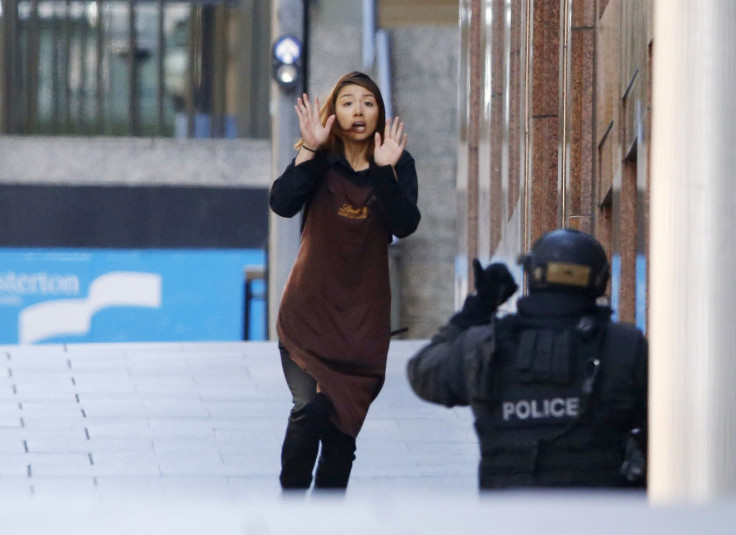 Several people are still trapped in Sydney's Lindt cafe where a gunman is said to be holding them hostage. He has apparently forced two of them to hold up an Islamist flag.
Police are now suspecting that the attack is an act of terrorism. Despite the grim situation, some onlookers appear to have taken selfies while watching the events unfold and enjoying their beer.
The selfies of the seige appear to have been taken in the area of the Lindt café in Martin Place, reports 9 News. The selfie takers have come in for severe criticism on the social media.
Here are the pictures allegedly taken near the area of the hostage crisis.
Love a selfie but HOW is this OK? RT@nycjim:Bystanders taking selfies at scene of #SydneySiege http://t.co/1NP5qYfrF1 pic.twitter.com/9GLzF5nZ7M

— GemmaTognini (@GemmaTognini) December 15, 2014
Terror! Islamic State err Al-Qa'idah is here! Sydney under siege! ...time to take a selfie. #MartinPlace #SydneySiege pic.twitter.com/Fc4BSgjY5v — Prince Khattab (@princekhattab) December 15, 2014
Here are some reactions on social media. Users slammed the photographers for their selfie obsession so close to a site of terror and termed it 'terrible' and 'disrespectful'.
People taking selfies at the area around the Sydney hostage situation. We have reached peak selfie and it is terrible. — Ian Miles Cheong (@stillgray) December 15, 2014
Ppl taking selfies at a time like this shows how controlled we are by social media and stupidity to get likes #sydneysiege #SydneySelfie

— Kattify (@katietofler) December 15, 2014
Can't think of anything more disrespectful than taking a "selfie" at the site of a terror attack. Hope everyone in Sydney gets out unharmed! — Elaine Macdonald (@elainecmac) December 15, 2014
Why would you take a selfie at the Sydney siege? You have to be mentally insane and have no respect for anyone if you do.

— Urbanboating (@BoxedInKayleigh) December 15, 2014
People are taking selfies at the Sydney hostage site and you still refuse to accept that selfie is a brain dysfunction. — Shree (@whyrus_) December 15, 2014
Just hangin out at a dangerous hostage crisis, think I'll stop and take a selfie, with a smile of course #ICant #Sydney

— Terri ❄️ (@onterrioh) December 15, 2014