Syria: Besieged Isis, al-Qaeda and al-Nusra fighters in limbo after rebel leader Zahran Alloush killed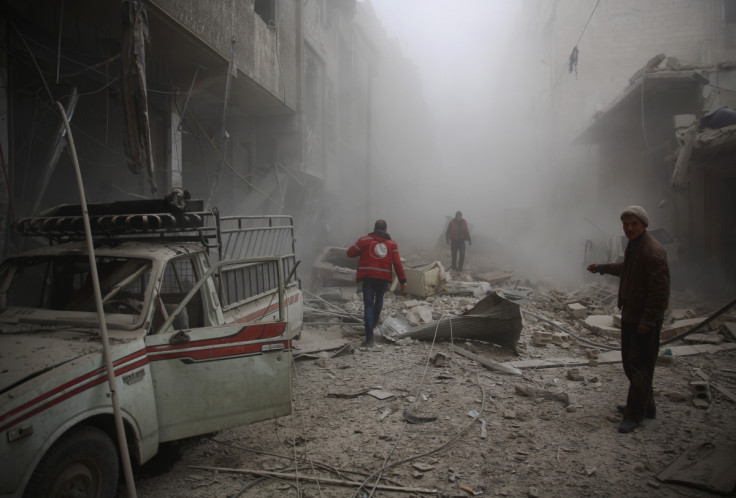 An agreement between Syrian authorities and rebel groups, allowing for over 4,000 fighters and civilians to travel to Raqqa and Marea, is in limbo after an air strike killed Zahran Alloush, leader of rebel group Jaysh al-Islam.
The UN-brokered deal would have allowed for over 2,000 fighters from various factions – Islamic State (Isis), their rival al-Qaeda affiliated Jabhat al-Nusra, and rebels from groups including Jaysh al-Islam – to be be transported to the northern cities of Raqqa, held by IS (Daesh), and Marea, controlled by al-Nusra, the official said.
The areas to be evacuated included Qadam, Hajar al-Aswad and the Palestinian camp of Yarmouk. This pull-out deal would have been the first of its kind between Syrian authorities and IS.
The removal of the fighters was expected to allow Syrian President Bashar al-Assad to reaffirm his control over parts of the city which has seen heavy bombing since the beginning of the civil war, and re-establish supply lines. The siege has stemmed the flow of humanitarian aid which has led to the death of thousands in what Amnesty International says amounts to war crimes.
The British-based Syrian Observatory for Human Rights said that the evacuation had been expected to take place early on Saturday, but as Alloush is now dead no safe passage can be guaranteed for the convoy.
Jaysh al-Islam have named Issam al-Buwaydani, also known as Abu Humam, as its new leader. It is now not clear if and when the fighters will be evacuated from besieged rebel-held areas of the city.
Zahran Alloush was killed in an air strike on Friday (25 December), east of Damascus, where the Saudi-backed Islamist group is dominant. Assad's army command has claimed responsibility for the "special operation".
The Jaysh al-Islam leader had attended an opposition summit in Riyadh earlier in December which aimed to begin peace talks with the Syrian government. On 18 December the UN Security Council unanimously approved a resolution endorsing a plan for peace in Syria - that included input from rebel forces.
Despite losing ground across northern Syria to Kurdish forces, in northern Iraq to Kurdish and Christian forces and in Ramadi, east of Baghdad, to the Iraqi army on 26 December, IS leader Abu Bakr al-Baghdadi released a new message saying that the self-declared 'caliphate' is doing 'well'. "Be confident that God will grant victory to those who worship him, and hear the good news that our state is doing well. The more intense the war against it, the purer it becomes and the tougher it gets," he said.
© Copyright IBTimes 2023. All rights reserved.