Two Los Angeles gang members are taking part in Syria's civil war, supporting President Bashar Al-Assad, according to a senior counter-terrorism official, ABC News reported.
"Creeper" and "Wino", heavily tattooed and armed with AK 47, posted a video on YouTube claiming to belong to the gangs Puro Sur-13 (an American-Mexican street gang) and Westside Armenian Power, and to be "in Syria, gangbanging".
"We got the enemigos [enemies] right there", one says in the video and then the two shoot some bullets saying that they are fighting for their gangs.
Los Angeles Police Department Deputy Chief for Counterterrorism Mike Downing told ABC News that they had found the video online and on Facebook.
"We're kind of concerned about their recruitment and whatever other associates they have here... We predicted this would happen -- the [organized crime and terrorism] convergence. What we're worried about is the ones we don't know about here or coming back to the US," Downing said.
Downing said the subjects are gang members, one Armenian and the other Latino -- not radicalised Islamist jihadis.
The two gang members are fighting with Hezbollah militias to defend the secular regime of Bashar al-Assad, according to Downing and and they are not US citizens.
One fighter is Armenian and the other Latino and at least one was deported from the US long ago, Downing added.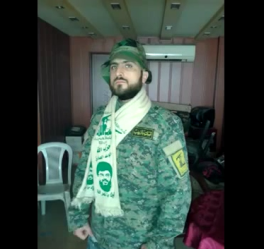 Wino, the Armenian fighter, posted a picture on his Facebook profile where he was wearing a scarf show the face of Hassan Nasrallah, the leader of Lebanese Hezbollah, the Iran-backed militant group that has joined the civil war backing Assad.
The fighters do not explicitly state their motivations for joining the Syrian conflict.
According to FBI Director James Comey and Director of National Intelligence James Clapper dozens of US citizens have fought in Syria and are now under investigation or surveillance, for fear they learned terrorism tradecraft from the dominant jihadi groups there ideologically aligned with al-Qaeda, who, however, is on the side of the rebels.
According to the officials, more than 50 US citizens have returned from Syria with combat experience.
The FBI has opened a counter-terrorism investigation, a source said. FBI officials at the Washington DC have not yet commented.