Rebel forces in Syria launched a counter attack on government-held positions in Aleppo on Monday (11 July) after their major supply line was cut off in an offensive by President Bashar al-Assad's forces. More than 300 shells were fired by the rebels that hit government-held neighbourhoods of Aleppo.
The attack killed at least five people and wounded a dozen others, the Syrian Observatory for Human Rights reportedly said. Syrian state television, however, reported eight deaths and damage to buildings in the area following the heavy shelling.
The attack was "a response to the (government) attempts to advance", Zakaria Malahifji of the Aleppo-based Fastaqim rebel group told Reuters, adding that government forces had already made gains in the area. He said Aleppo's ancient Old City was the current battlefield where heavy fighting between the government forces and the rebels was underway. A Syrian state TV correspondent confirmed that the Syrian army attacked the rebel groups and killed many. The UK-based Observatory reported that at least 10 civilians have been killed in air strikes on Hay al Maqam, a rebel district in Aleppo. There were also reports of more air strikes by Russian warplanes near Castello Road.
Air strikes by either Russian or Syrian warplanes also targeted a fuel market in a town in the northwestern province of Idlib killing at least 10 people and injuring scores, a local rescue worker near the site told Reuters. In another air strike that hit a local field hospital in the town of Ahsem in Idlib province, three people were killed, including a child, Reuters quoted an international charity and an aid worker as saying.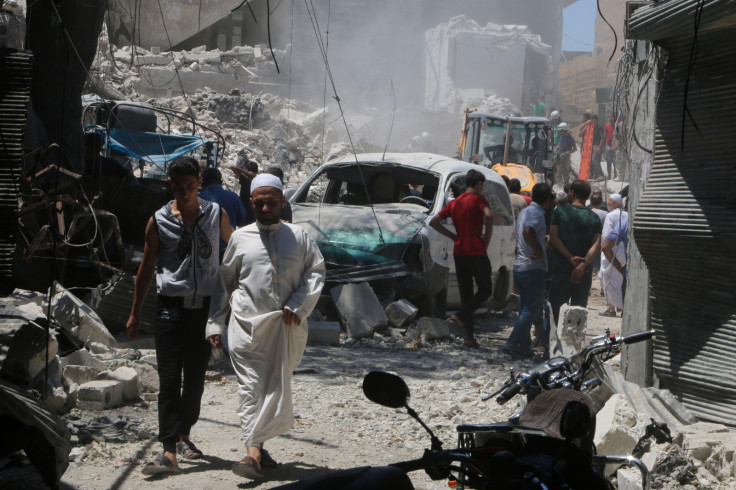 The rebel attack on Monday was launched days after government forces advanced towards Castello Road, cutting the supply route that has reportedly been vital for the rebels through much of Syria's civil war. Around 250,000 people live under siege in the rebel-held districts in Aleppo and the cutting off of the supply line threatens to have severe implications for the rebel forces as well as civilians.
Citing a witness, the observatory reported that rebels killed at least 20 army troops by blowing up a tunnel dug underneath a government post near the historic citadel at the Unesco world heritage site of Aleppo.
Although the Syrian military under Assad has announced a truce with rebel forces, fighting has continued in many parts in Aleppo where most of the neighbourhoods are under the army's control and only a handful of areas are controlled by rebel forces.