Russia has stepped up its attacks on the Islamic State (Isis) militant group in Syria, bombarding targets with cruise missiles from warships in the Mediterranean and Caspian seas.
Russian Defence Minister Sergey Shoigu said 18 long-range missiles were launched on seven IS targets in the Raqqa, Idlib and Aleppo provinces on 20 November.
The strikes come after Moscow confirmed on 17 November that a bomb brought down a Russian airliner over Egypt in October. The IS-affiliated Sinai Province group claimed responsibility for the attack in which 224 people died, saying it was revenge for Russia's intervention in Syria.
Shoigu said the Russian air force had conducted 522 sorties and deployed more than 100 cruise missiles since 17 November.
Escalating campaign
The UK-based Syrian Observatory for Human Rights said Russian warplanes conducted air raids in the Idlib, Hama and Lattakia provinces on 20 November. At least eight people were killed in around 50 air raids in the oil-rich Deir Ezzor province.
Shoigu said Russian warplanes had targeted 15 oil storage and refinery facilities and 525 oil trucks belonging to "terrorists" over the past week.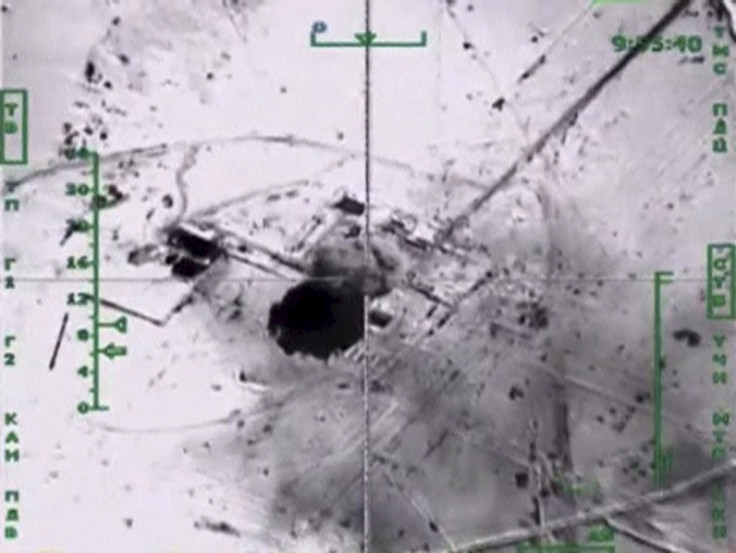 President Vladimir Putin had ordered an escalation of the Russian air campaign earlier this week, vowing "to make the criminals understand that vengeance is imminent".
Russian warships have been ordered to work with France, which has also stepped up its air campaign in Syria and Iraq in the wake of the deadly terror attacks in Paris on 13 November.
Earlier this week, Masrour Barzani, the head of intelligence and security in Iraqi Kurdistan, said IS was not significantly weakened by the aerial bombardments of the US-led coalition and Russia.
"It is very difficult to say that Isis has weakened. They might be losing some ground here and there but to terrorise, of course, they are using different methods," he told the BBC.
"I think [the Paris attack] is probably a change of tactics. They might try to do more of this if they are not stopped and they are not kept under pressure."
Meanwhile, the Kremlin moved to rule out the possibility of a ground invasion of Syria. "There has been no talk, and there is still no talk of a ground operation," Kremlin spokesman Dmitry Peskov was quoted as saying by RIA Novosti on 20 November.