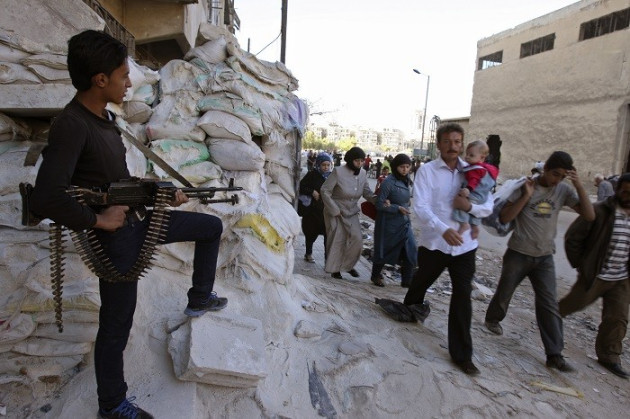 Gunmen have kidnapped six Red Cross workers and a local volunteer of the Syrian Arab Red Crescent in northwest Syria.
The International Committee of the Red Cross (ICRC) is appealing for the seven to be freed immediately, ICRC spokesman Ewan Watson said, declining to reveal the nationalities or gender of the six ICRC staff.
"I am able to confirm that six ICRC staff members and one Syrian Arab Red Crescent volunteer have been abducted near Idlib in northwestern Syria," Watson told Reuters.
"We are calling for their immediate and unconditional release of this team which was delivering humanitarian assistance to those most in need - and we do that on both sides of the frontlines," he said.
Syrian state media reported the incident earlier in the day, saying the gunmen had kidnapped the Red Cross workers after opening fire on their vehicles.
Citing an unnamed official, state news agency SANA said the workers were travelling in the Idlib area when gunmen blocked their path, shot at their convoy, forcibly seized them and took them to an unknown location.
"An armed terrorist group today kidnapped a number of workers in the mission of the International Committee of the Red Cross in Syria," the report said, using a term the government commonly uses for rebels fighting against President Bashar al-Assad.
Watson was not able to confirm that shots had been fired, but said the team's vehicles were also missing. The team had been on their way back to Damascus after delivering medical supplies in Sarmin and Idlib.
Kidnappings have become increasingly common in northern Syria, where rebels have captured territory but government forces have resisted and hold on to many urban centres - even though fighting continues every day.