Islamic State (IS) has stepped up its campaign of terror against the Syrian regime, led by Bashar al-Assad, by targeting a key transport hub controlled by government soldiers.
On the evening of Wednesday 3 December, IS launched an offensive against the military airport in the city of Deir ez-Zor, which is located around 500km from the militants' main stronghold in Raqqa, and just 150km from the Iraqi border.
An IS suicide bomber drove himself into the airport and blew up the car at the entrance, killing around 30 government troops, while other militants launched raids to capture other parts of the terminus.
According to one activist, 25-year-old Zine al-Ahmad, the IS incursion led to several violent clashes with regime fighters. The air was filled with the sound of ambulance sirens as rescue workers rushed to the airport to help Assad's wounded troops.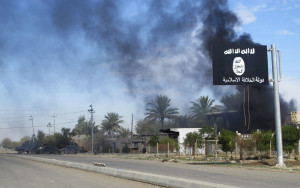 During its raids, IS arrested and beheaded 19 regime troops and took control of four Russian-made T-52 tanks, as well as a number of heavy guns. The jihadis seized an aquarium as well as a nearby water station. Crucially, however, it has yet to take full control of the airport.
As the fighting raged through the night, a cargo plane spirited 50 of Assad's top officers away, along with a battery of heavy guns and several important documents. Government aircraft launched a series of raids on the perimeter of the airport, accompanied by shelling of the nearby villages Al-margaia, Marat, Madlum, Alb and Omar.
It appears IS has established cells in several of the villages around Deir er-Zor. It is reported that the militants clashed with a local clan in the countryside surround the city, with more than 20 of them dying in the exchange.
Abu-Bakr al-Baghdadi, the reclusive leader of IS, appears to view Deir ez-Zor as a crucial strategic prize, as he attempts to deflect attention away from the coalition air strikes in Raqqa and broaden his Syrian power base.

Local sources claim IS is conveying large numbers of fighters from Raqqa and Iraq, with a view to take full control of Deir ez-Zor in the next few days. If the city falls, it could leave IS with a clear path between Syria and Iraq, the two states in which it currently enjoys its greatest support.