Syria: Kurdish women fighters commandeer tank in battle over Menagh air base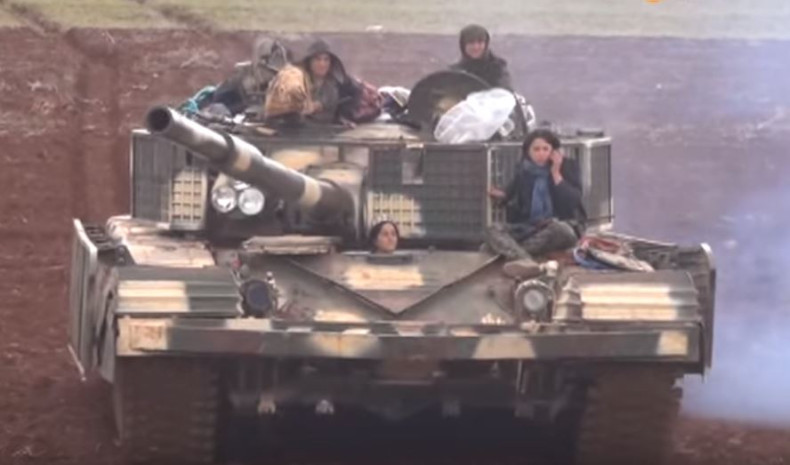 Footage has emerged showing female Kurdish fighters commandeer a tank and fire heavy weaponry at enemy positions as part of a successful bid to capture rebel-held positions in northern Syria. The women guerrillas, part of the Kurdish People's Protection Units (YPG), stand in stark contrast with other forces in the region who have traditionally shunned female inclusion in any fighting.
The video, published by the Kurdish ANHA news agency on Thursday (11 February), begins with a group of four female fighters on a tank and ends with them firing shells at enemy positions. They are also seen manning machine guns mounted on the back of trucks and firing sniper rifles. The footage demonstrates the continued willingness of the YPG to use women soldiers in their fight for territory in north Syria.
The battle, supported by Russian air strikes, eventually saw the capture of Menagh military air base from rival anti-Assad Islamist rebels on Wednesday (10 February). "With the defeat at Menagh, Islamist fighters lost the only military airport they held in Aleppo province," Rami Abdel Rahman, head of the UK-based Syrian Observatory for Human Rights, told AFP news agency.

Syria government forces lost control of Menagh in August 2013. It is hoped the air base will give YPG forces a launching pad for further offensives against enemy fighters in the east of the conflict-ridden country, Rahman said.
The advance comes after days of fierce fighting that saw the YPG launch assaults from the Kurdish stronghold of Afrin, north of Syria's largest city of Aleppo. It took a series of villages before reaching Menagh.
The YPG, who are also fighting Islamic State (Isis) fighters in Raqqa and Hasakah provinces, have been credited as being one of the few effective fighting forces in Syria. But rebels have accused them of a landgrab, "cleansing" captured towns.
In October 2015, Amnesty said Kurdish forces were guilty of possible war crimes alleging they had prevented displaced Arabs from returning to villages by demolishing houses. The YPG denied the allegations.