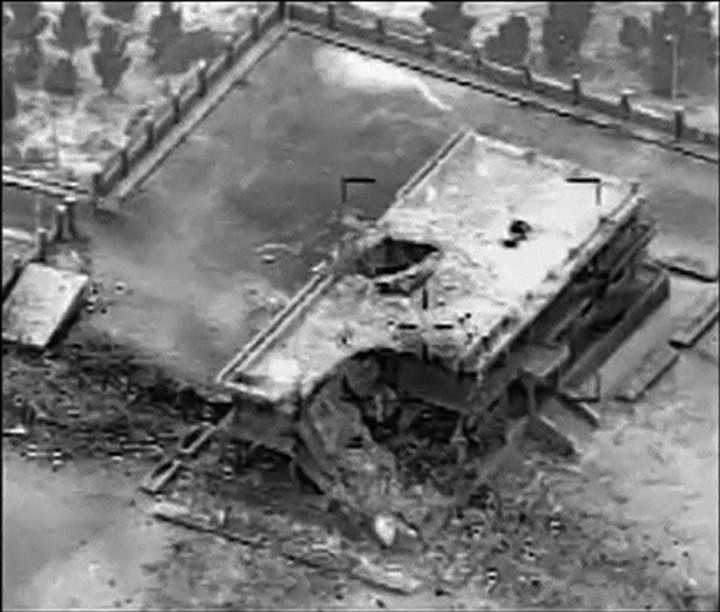 The United States and a coalition of Arab allies have launched fresh airstrikes targeting an Islamic State-controlled oil well in Syria tonight. (25 September).
American jets hit scores of key oil refineries last night, striking at the heart of the terror group's funding. The oil refineries, located southwest of the Syrian town of Albu Kamal, and close to the border with Iraq, generate up to $2million worth of revenue for ISIS from the sale of oil.
At least 14 militants and five civilians were killed in the overnight strikes.
In response to the attacks, terrorists fighting in Syria are believed to have freed 150 prisoners in Raqqa in a bid to stall the allies campaign of airstrikes.
The militant stronghold is widely thought to be a base for the group's senior figures, including leader Abu Bakr al-Baghdadi, and where British hostages Alan Henning and John Cantlie are being held.
The latest bombardment by the US comes in light of reports that ISIS is planning an attack on US and French subways, using jihadists with Western passports to launch terrorist attacks.
A senior Obama administration official has said no one in the US Government is aware of the apparent plot, which was made public by the Iraqi prime minister on the sidelines of the UN General Assembly in New York.
Speaking to reporters Prime Minister Haider al Abadi did not specify a location in the US for the attack, but claimed to have received intelligence to suggest attacks are imminent.
"Today, while I am here, I am receiving accurate reports from Baghdad where there was arrest of few elements and there are networks planning from inside Iraq to have attacks.
"They plan to have attacks in the metros of Paris and the US," he added. "From the details I have received, yes it looks credible."
US President Barack Obama called on Wednesday for the world to join together to destroy the group, which he branded a "network of death".
The UK expected to join the allies in launching airstrikes after a Parliamentary vote on Friday.
While Western nations are now galvanised to join the fight against ISIS, Iran has urged the West to take responsibility for its role in allowing extremism to flourish.
Speaking at the UN General Assembly earlier, Iran's President Hassan Rouhani said the West had helped create "terror havens" in parts of the Middle East and Central Asia.
"Improper interference in the developments in Syria are clear examples of this erroneous strategic approach in the Middle East," the Iranian President said.
"The strategic blunders of the West in the Middle East, Central Asia and the Caucasus have turned these parts of the world into a haven for terrorists and extremists."
The latest round of strikes come as FBI Director James Comey said the bureau has identified the Islamic State (IS) militant accused of beheading two American journalists, James Foley and Steven Sotloff, and a British aid worker, David Haines.