Forces loyal to Syrian President Bashar al-Assad have recaptured a vital route into the besieged second city of Aleppo from the militant group Islamic State (IS) - also known as Isis. The road represents the only supply route into the city linking government-held areas to the south including Hama and Homs with neighbourhoods of the city held by Assad's forces.
Isis had captured the Aleppo-Khanasser-Ithriya-Al-Salmiyeh road last month (October 2015), but have been driven back by government troops with the help of Iranian troops and Lebanese Hezbollah forces and aided by Russian air strikes. Assad's forces are now trying to break a siege of Kweires military airport in the east of Aleppo according to Reuters.
The capture of the road by Isis meant Aleppo - Syria's second largest city - was under a state of siege. Aleppo, which had a population of two million before the civil war began in 2011, has been devastated by the conflict, with thousands of civilians killed or injured and many more forced to flee the country for Europe and other countries in the Middle East.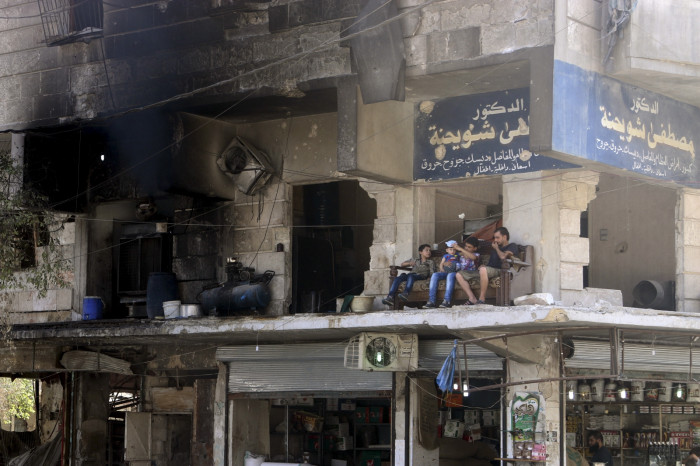 Syrian state TV said the road was retaken "after eliminating a number of Daesh (IS) terrorists," and after being cleared of mines will be open to the public tomorrow (Thursday 5 November). Isis have been pushed back around 10 km (6 miles), according to the UK-based Syrian Observatory for Human Rights (SOHR).
Despite the setback, Isis - who want to impose a caliphate across Syria and Iraq - are reported to have actually gained territory since the Russians began their air campaign. There have been claims by Syrian forces opposed to both Assad and Isis that they have been targeted. The Russians claim they are only targeting terrorists and have also declared that the continued rule of Assad - whose army have carried out countless atrocities against civilians - is not a primary concern.