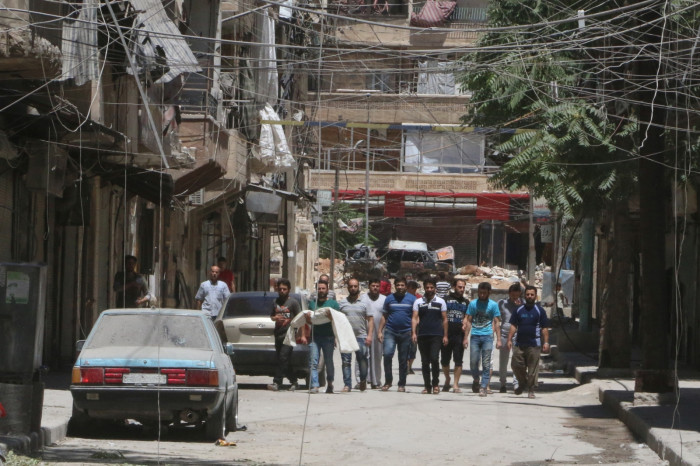 The last rebel supply route into the besieged Syrian city of Aleppo has been cut by regime forces, according to the UK-based Syrian Observatory for Human Rights. If confirmed, the development would be a major boost for forces loyal to the regime of President Bashar al-Assad and a devastating blow to the rebels.
There are now fears the 300,000 civilians in the rebel-held enclaves in the east of Aleppo could be starved out and aid agencies warn food could run out within weeks. Unicef has warned that medical facilities have been deliberately targeted and food warehouses have also been bombed.
The announcement comes after the Syrian regime siezed Castello Road, which had been used as a supply line. The army then texted residents of Aleppo and told them to lay down their weapons.
Some humanitarian corridors are said to have been established for civilians, but it is unclear if any would be able to use them without being fired on by one side or another.
Aleppo has been continually bombarded for much of the five-year civil war, in which up to 400,000 people have died across Syria. Most recently on Tuesday (26 July), 18 people died in the al-Mashhad neighbourhood of Aleppo when it came under attack from government thelicopters, Al Jazeera reported. Earlier this week, 42 civilians were killed in the nearby city of al-Atareb, again by pro-al-Assad government forces.
Ordinary civilians in Syria have been killed by all sides during the fighting. The Islamic State (Isis) has also inflicted heavy losses in recent days, killing almost 50 people in a truck and motorcycle bomb attack in Qamishli, to the east.
Last week US-led coalition air strikes killed between 56 and 167 civilians near Manbij, where IS (Daesh) had been reportedly using them as human shields. The US will launch a formal investigation into the incident, US military spokesman Colonel Chris Garver said.