Trapped in a spiral of debt and in deteriorating conditions, Syria's refugees have little choice but to send their children out to work in another blow to a generation whose childhood had already been given up in forfeit to nearly five years of bloody civil war.
"I feel really bad because they are not getting an education. I ask myself 'Why are my children different?'"
- Aruba, a refugee in Lebanon's Bekaa Valley
Mohammed, 11, raises an eyebrow and gives a reproachful look when asked how he feels about having to go out to work. His mother, Aruba, 32, cries. Four of her seven children have had to take jobs in Lebanon's Bekaa Valley. The youngest to work on the street, Hamza, is age seven. His brother, Seraj, nine months older, was the one to show him the ropes.
They work on the highways and main streets of Lebanon's Bekaa Valley selling chewing gum to passing cars from 9am often till sunset for around 4,000 Lebanese Pounds (£1.80) a day. Sometimes the youngest will make nothing before they return home to the tent where all 12 family members sleep.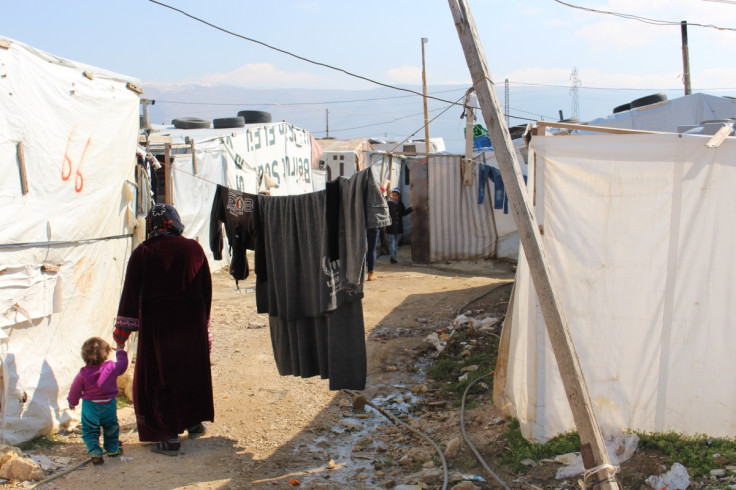 Aruba did not fear for her children's safety in rural Aleppo before the start of the war in Syria, but now it is a constant concern. "Here I am always worried, from the time they leave the house until the time they come back. What if somebody kidnaps them? What if somebody hits them by mistake?" she asked.
So one night, when Mohammed did not return home, Aruba thought the worst. She returned twice to the highway near Bar Elias, just a short walk from the cluster of 100 or so tents where the family has lived for the past six months after they fled to Lebanon two years ago.
The second time she searched, long after dark and after all the nearby shops had closed, she found Mohammed, who told her he stayed out because he hadn't made enough money that day.
Child labour is prevalent in Lebanon. According to the United Nations High Commissioner for Refugees (UNHCR), more than three million have fled to Syria's immediate neighbours Turkey, Lebanon, Jordan and Iraq since 2011. The numbers are also on the rise as families run out of cash and fall into a cycle of debt. At the same time, prices have risen and cuts in humanitarian assistance have taken hold. In September 2015 the World Food Programme (WFP) cut its food voucher programme by a third.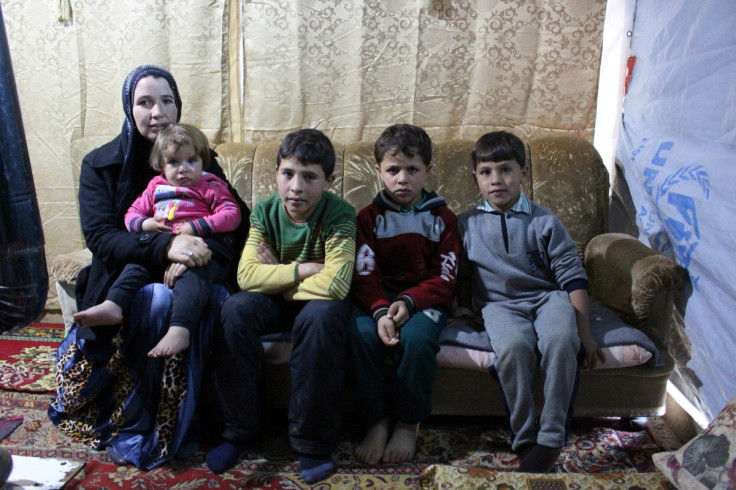 Families like Aruba's are hit particularly hard because assistance from the WFP is capped. A family of 12 receives the same amount of assistance as a family of five. The rent they pay to stay at the informal settlement costs 80,000 (£36.69) Lebanese Pounds a month. Aruba's husband might hope to make 20-40,000 (£9.17 - £18.34) a week.
Aruba's daughter, Fatima, 15, had brought in additional money sorting fruit at a factory, but left after her Lebanese employer stopped paying. ECHO-funded assistance from the Lebanon Cash Consortium, to which NGOs such as World Vision contribute, brings the family a further $260 (£180), but costs, which include electricity, transport, medicine and nappies for Bayan, aged two, mean they are struggling to survive.
"I feel really bad because they are not getting an education. I regret how I look at them and compare them with other children, and the way they are dressed up. That's what makes me sad. I ask myself, 'Why are my children different?'" Aruba explained.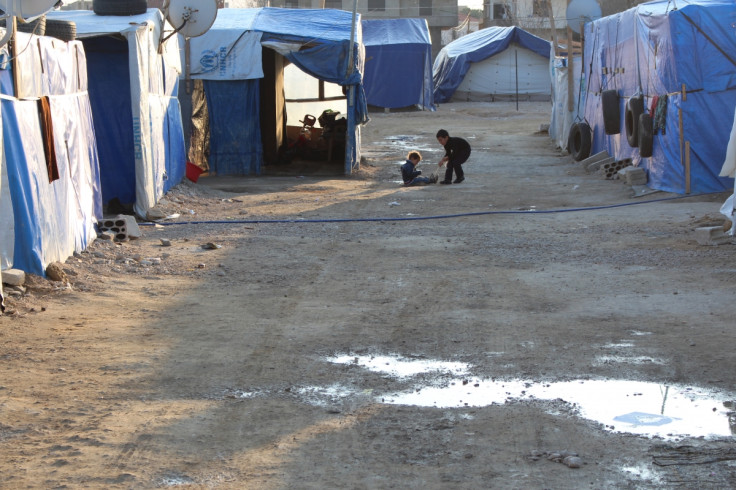 In a nearby tent, Mohammed's grandfather also regrets that his young children and his grandchildren are forced to work. Hassan, a shepherd from southern Aleppo, has not had a labouring job since he had to make a perilous journey to Damascus for an operation to remove his appendix. "I am old. Now if I go and look for a job, no one will recruit me. As a result of the recent surgery I can't lift anything," he said.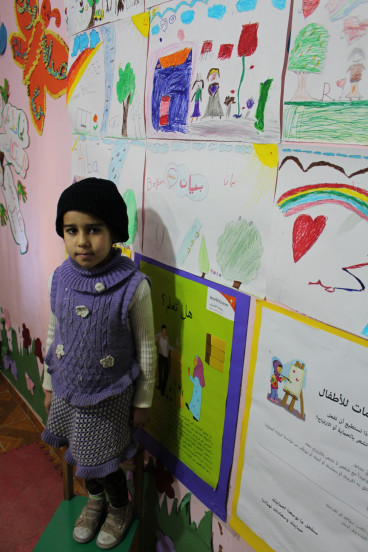 Hassan's son, Bilel, 12, works with his grandchildren Hamza, Mohammed and Seraj selling chewing gum. Bilel can make up to 7-8,000 Lebanese Pounds (£3.21 - £3.67) a day, and explains that on top of his sales, he makes 2-3,000 (£0.92 - £1.38) per day in charitable donations. But he faces abuse on the street, predominantly from Lebanese drivers.
There has been a backlash against Syrian refugees in the country over the influx of cheap labour and strain on public resources. Syrian children on the streets can sometimes feel the brunt of opinion. "It is normal ... some others would curse and insult me or they would shout. I don't know why," Bilel explained.
Although he was in school until he was nine, Bilel says he cannot remember what it was like. The building itself was destroyed in an air strike. His parents put Bilel's lack of memory down to trauma. "Fear will not let you remember anything," Hassan said.
Addressing the past traumas as well as the stresses of life in the refugee settlements is part of the work NGOs like World Vision are doing through 'child-friendly spaces'.
Children, normally from the same settlement, attend these spaces for a period of two months so that they can play in a safe environment. Activities at the centres also allow them to learn and process the effects that the conflict has had.
Group sessions at these centres mean that the children are able to relate to each other better and can resolve problems without resorting to violence. Activity leaders in these spaces are also working to prepare them psychologically for school, a setting most would struggle with.
At a nearby centre Hamza attends, bright pictures adorn the walls and children can be seen playing in the hallways. Mona Daoud with World Vision Lebanon said that these spaces "allow children just to be children", adding that a cycle of trauma and other mental health issues mean they often behave poorly or even violently when they arrive. "They cannot forget the scenes they saw – the violence and the bloodshed," Daoud explained.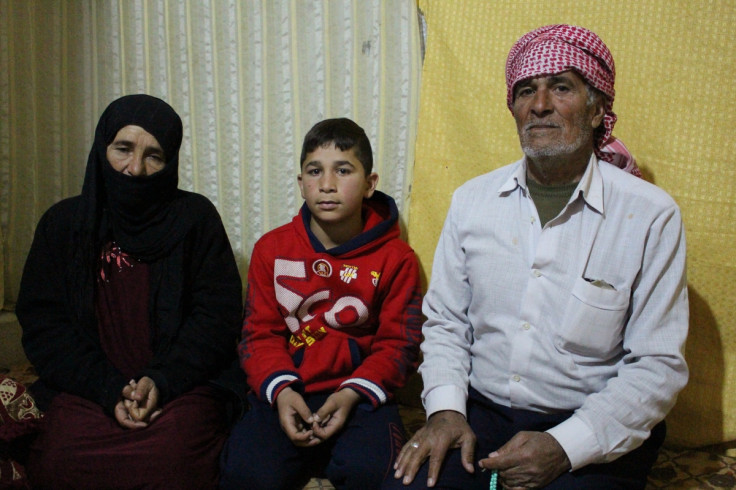 Hamza's teacher Alaa, a Syrian from Damascus, explained that when children arrive at the centre at the start of their two-month cycle, they can have speech problems and are often withdrawn. "When they come happy, you know they are ready to cooperate," she said, adding that real progress starts about 30 days in. "I can't describe it. It's great to see a child who was cornered and isolated in their community begin to learn," Alaa added.
Hamza, who likes colouring, is one of the more withdrawn members of the class. However, when Seraj comes to the centre, he is more engaged.
The effects of a day at the centre are evident in Seraj and Hamza's faces. Hamza, who has played with the other children, is now more trusting and smiles. Yet Seraj, who has been on the street, is more circumspect and does not meet the eyes of those speaking to him.
Hamza said he would rather be with Seraj, but added that if his brother is out selling, he would rather come to the centre. However, when his cycle there ends, Hamza will have nowhere to go but back out to the street again.
- Callum Paton travelled to the Bekaa Valley in Lebanon courtesy of NGO World Vision.
More about the Syrian civil war: