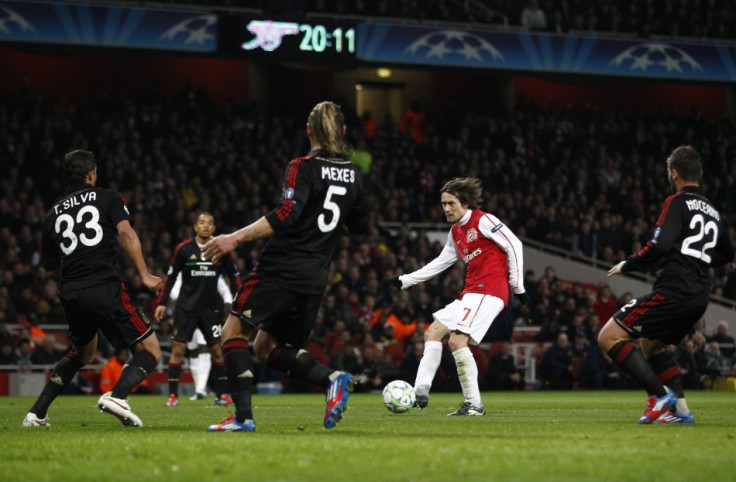 Arsenal goalkeeper Wojciech Szczesny has lauded the recent form of Tomas Rosicky, after a string of impressive performances from the midfielder in recent weeks.
Rosicky was instrumental in Tuesday's 3-0 Champions League victory over AC Milan as the Gunners fell just short of pulling off one of the greatest upsets in the tournament's history.
The Arsenal playmaker scored the second goal of the night against the Serie A side as they netted three times in the first half at the Emirates to come within one goal of turning around a four-goal first-leg deficit.
And, despite narrowly missing out on the quarter-finals, Szczesny believes his team-mate is growing into his new role at the heart of Arsenal's midfield.
"He has been fantastic for the last few weeks now, scored a great goal against Tottenham and was my man of the match in that game," Szczesny told the official Arsenal Web site.
"He was great again here and hopefully he can keep going because when he plays like that he is a fantastic player.
"He can take people on in the middle of the park too. I think we dominated the midfield in the first half and he made the difference. He is fantastic."
The Czech international has started just 15 games this season but has been an influential figure in recent wins over Tottenham, Liverpool and Milan. And manager Arsene Wenger singled out the 31-year old for special praise in the wake of Tuesday's victory, hinting he has fully recovered after almost 20 months out with a tendon problem.
"I have to give credit to Rosicky. He was again outstanding tonight. In all of these games, he was one of the influential players and he does not always get the credit he deserves, so I would like to take this opportunity to give him this credit," Wenger told the Evening Standard.
"I don't know if it is one of my proudest nights but it is a night where players can be proud to play for this club because they put every effort in. If you win 3-0 at home you can only say well done to the players. We were very close."