'The Tablet Apple Tried to Stop': Samsung's Cheeky Galaxy Tab Advert
Following its Apple-poking television advert released earlier this month, Samsung has once again tried to ruffle Apple's feathers by describing the Galaxy Tab 10.1 as "the tablet Apple tried to stop".
Samsung recently won the right to sell its tablet in Australia after Apple had applied for a court injunction preventing the tablet from being sold in the country because the Cupertino firm believed that it was too similar to its iPad 2.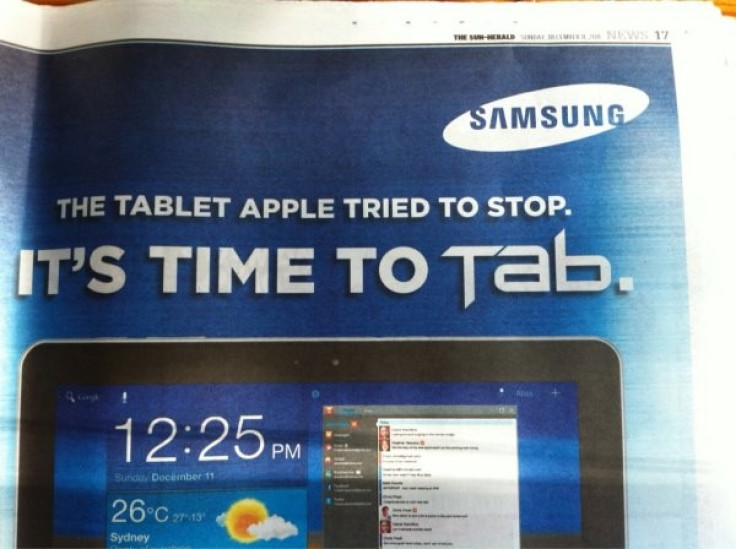 Now that the sales ban of the Galaxy tablet has been overturned, Samsung has wasted little time in kicking Apple where it hurts - by drawing on the publicity of its legal battle against the iPad manufacturer to fuel a newspaper advertising campaign.
Following the Apple-ribbing television advert that it released earlier this month, the Korean manufacturer is attempting to ruffle the iconic brand's feathers once again in a newspaper advertising campaign.
The ad, which appeared in the Sun-Herald newspapers in Australia, shows the Galaxy Tab 10.1 with the text "the tablet Apple tried to stop. It's time to tab" above it.
Speaking to the Sydney Morning Herald, Tyler McGee, of Samsung Australia, said: "At the end of the day, the media awareness certainly made the Galaxy Tab 10.1 a household name compared to probably what it would've been based on the investment that we would've put into it from a marketing perspective."
It remains to be seen how many Galaxy Tab 10.1s will make their way to Australia in time for Christmas, given that the sales ban was only recently lifted, so we recommend that you buy one as soon as possible in order not to be disappointed on the big day.
Just last month, Samsung released a television advert (below) for the Galaxy S2 smartphone that made fun of iPhone fans and Apple devotees, who were shown queuing up outside a store, waiting for the new phone.
Thanks to Twitter user @maungle via Engadget for finding the image.
© Copyright IBTimes 2023. All rights reserved.