Taiwanese President Tsai Ing-wen oversaw a massive military drill on Thursday, 25 May when her forces repelled simulated attacks by Chinese forces. Personnel from Taiwan's army, navy and air force took part in the major exercises in what is seen as a drill to improve coordination among several units.
The drills occur amid weakened ties between Taipei, a state which China considers as its own, and Beijing. Tensions have further exasperated under Tsai, Taiwan's first female president, ever since she took charge in 2016 championing strong nationalist sentiments. China has not ruled out a full-scale invasion against Taiwan if it deems necessary.
Against this backdrop, Taiwan carried out its annual four-day exercises starting on 22 May. More than 3,900 Taiwanese troops participated in the event during when the soldiers tackled mock-up amphibious assault by Chinese personnel via a 160km-wide Taiwan Strait.
Tsai, who was wearing a camouflage helmet and a flak vest at the event, said she is keen on bolstering Taiwan's domestic defence sector augmenting the number of fighter jets and military vessels.
Assault helicopters, tanks, rocket launchers, and shoulder-fired missiles were all part of the exercises. Fighter jets from manoeuvring warships imitated attacks from Chinese planes. A statement by the Taiwanese military said its troops closely monitored the movements of "enemy aircraft".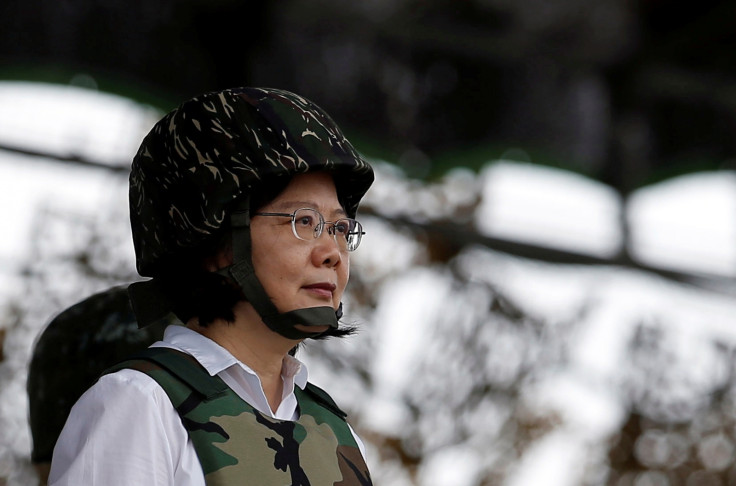 "The drill, involving dozens of warplanes, was meant to preserve the combat power of our warplanes in the face of missile attacks by the enemy on our air bases in the western part of Taiwan," a defence ministry official said, according to the South China Morning Post.
Since Tsai was inaugurated as Taiwanese leader, strengthening the defence forces remains a top priority for the quasi-sovereign state.
Commenting on the latest exercises, Beijing said Taiwan's resistance for reunification would get take the state nowhere. "'Taiwan independence' secessionist forces and their activities are the biggest threats to [the] peaceful development of cross-Strait relations," An Fengshan, spokesperson for the Taiwan Affairs Office of the State Council, said. An added that Beijing will not tolerate any kind of policy pertaining to Taiwan's independence whether "radical or soft".