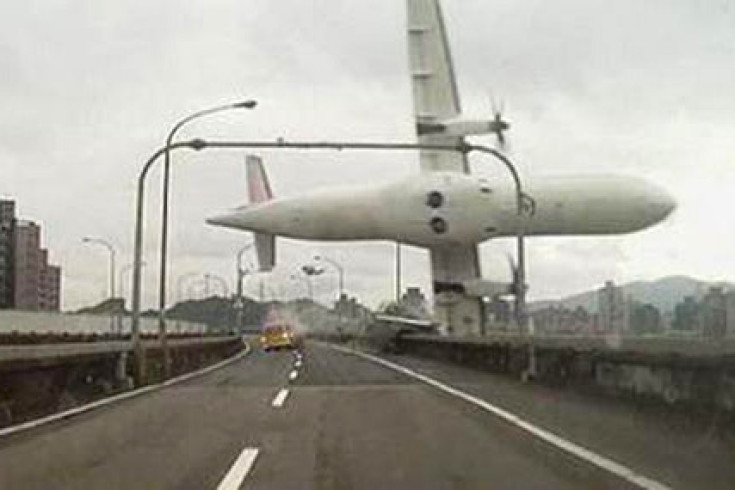 A preliminary investigation into a Taiwanese plane crash that killed 43 people has revealed the pilot switched off the functioning engine after experiencing issues with the other one.
Flight GE235 crashed into the Keelung River, minutes after taking off from Taipei's Songshan Airport on 4 February.
Taiwan's aviation regulator has published a first report into the incident, which, despite not apportioning blame, provided fresh details about the circumstances that caused the ATR-72 aircraft to come down.
Minutes after take-off, a technical failure affected one engine's capacity, sparking a flame-out warning in the cockpit, Taiwan's Aviation Safety Council said. The aircraft is designed to be able to fly on one engine in normal conditions.
A breakdown of the conversation between the pilot and his co-pilot, who both lost their lives in the crash, revealed the captain reacted by pulling back on the other engine's throttle.
"Wow, pulled back the wrong side throttle," the captain said.
Taiwan's Aviation Safety Council executive director Thomas Wang said normally pilots would throttle back to cut the flamed-out engine, not the functioning one.
"If engine two has flamed-out, you would shut off engine two, that's normal logic," Wang said.
Officials also revealed the captain had recently failed a flight simulator test, colleagues describing him as "a little nervous during line operations", and as a person having "a tendency of rushing to perform the procedures without coordination with the (co-pilot)", AP reported.
Fourteen passengers and one cabin crew survived the crash, most with serious injuries. Two people on the ground were also wounded.
The plane could be seen narrowly missing apartment buildings before lurching on one side over a bridge, clipping it with its left wing, in spectacular footage captured by the dashboard camera of a passing vehicle.
A full report into the investigation is expected to be completed by April 2016.
Here you can read a breakdown of the moments prior to the incident as published in the preliminary report.
More about flight GE235