South Africa's government has reiterated statements that it will not interfere in neighbouring Zimbabwe's affairs amid calls for support from pro-democracy activists.
Pastor Evan Mawarire, leader of the #ThisFlag protest movement in Zimbabwe, was this month drumming up support for his cause in South Africa, whose government he hoped would lobby President Robert Mugabe and assist Zimbabwean activists.
Zimbabwean diaspora joined in solidarity with #ThisFlag's mass days of action in early August, and the South African trade union federation Cosatu mid-July announced it was backing #ThisFlag demos which started to have regional ramifications. Marches were organised at the Zimbabwean consulate in Pretoria, and Cape Town, South Africa on 14 July.
However, it appeared South Africa's governing African National Congress (ANC) party was not willing to assist Zimbabwe's opposition campaigns, with top officials seeming to adhere to Mugabe's claims that the pastor was receiving funding from foreign countries bent on destabilising the nation.
South Africa and Zimbabwe are both members of the Southern African Development Community (SADC), and the South African ANC party has always considered Mugabe's Zanu-PF as a fraternal liberation movement and said that Mugabe is in power legitimately following the nation's 2013 elections.
South Africa will not interfere in Zimbabwe's affairs
On 16 August, South Africa's International Relations Minister, Maite Nkoana-Mashabane, reiterated her nation's position, saying voting is the only way through which Zimbabweans can change things.

"It's going to take Zimbabweans to do what they think is good for themselves through the polls, because in SADC we believe in democracy," Nkoana-Mashabane said during an interview with South African broadcast eNCA. "It was not long ago when they had the elections (2013)."
The minister highlighted how she believed Zimbabweans had the occasion to bring change during the country's 2013 polls, but they instead voted overwhelmingly for Mugabe, who has now been in power for 36 years.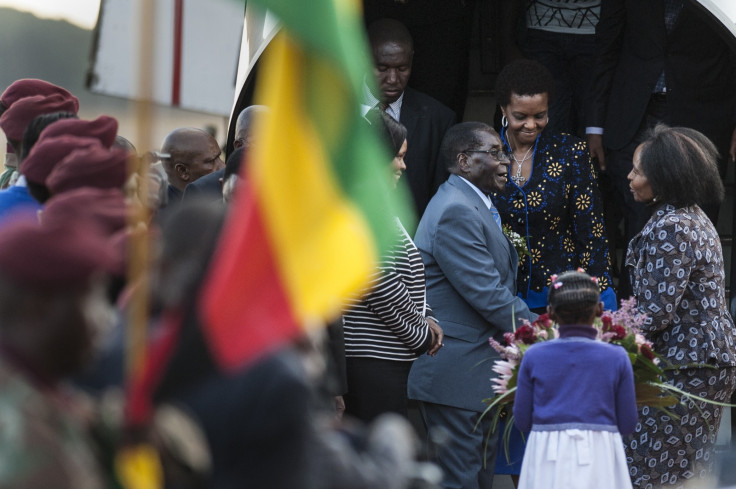 Critics highlight issue of 'free and fair elections'
According to critics within Zimbabwe and abroad, Zimbabwe is yet to hold free, fair and credible elections, despite the nation's successive elections since 1980.
A report by then Pretoria and Johannesburg high court judges Dikgang Moseneke and Sisi Khampepe, for instance, determined that the 2002 Zimbabwean elections were not "free and fair". The report commissioned by former South African president Thabo Mbeki found the poll was marred with irregularities. These included pre-election activities such as intimidation and the deaths of 107 opposition members.
Nkoana-Mashabane's comments have come under heavy criticism on social media, with users pointing to allegedly rigged elections in her own country.
Abbie, wrote: "It is hypocritical for the minister to say Zimbabweans have the opportunity to remove Mugabe through the ballot box when it is clear that such efforts have been thwarted by African governments, chief among them South Africa, which has repeatedly endorsed rigged elections."
Her view was echoed by user Rori Rory, who said it was "Interesting that the minister talks about change through the ballot box when her (own) government has been endorsing stolen elections since 2000. President Mbeki famously coined a phrase whose meaning no one has been able to decipher to date; 'not free and fair but credible.'"
South Africa's general elections in 2014 were marred by allegations of rigging from the opposition Economic Freedom Fighters (EFF) party. The EFF reiterated their allegation at the May 2016 manifesto launch. In August, the South African Independent Electoral Commission said it was investigating allegations that local elections were rigged in the Bushbuckridge municipality after ballot boxes were found dumped.
Mawarire: South Africa needs to do more for Zimbabwe
For Pastor Mawarire, who last month called on the international community to put pressure on the Mugabe government to "listen to its own citizens", South Africa needs to do more for its neighbour.
"Unfortunately, we have been branded by the secretary-general of the ANC, Gwede Mantashe, as being funded by the West. That's unfair. When Gwede sees me, he should see his brother's son. And that's what makes me sad.
"He should see me and say, 'Young man, you have come running to me. What's the matter between you and your dad? Can I talk to your dad and try and help you?' (...) And if there is a problem with my dad at home, I must be able to go to my brother's dad and ask for help. But if he closes the door on me, on us, what message does it send about him and my dad?" the leader told New Zimbabwe newspaper early August.
"It's true, we are brothers, and the governments need to talk to each other because if one nation goes to ruin, it's harmful for the whole region."
"The ordinary citizens of Zimbabwe haven't had help for years. How it has worked in the past and the struggles we have faced as African nations, we have always helped each other. Zimbabwe's government was helped by South African revolutionaries in our struggle for independence, just like our government helped them out too."