A couple held hostage by terrorists along with their children for five years used games to teach their eldest son about beheading.
American Caitlan Coleman, 31, and her Canadian husband Joshua Boyle, 34, were abducted by the Haqqani network, a Taliban-affiliated guerrilla group that operates in Afghanistan, while hiking in the country's Ghazni province in 2012.
They were released along with their three children, all of whom were born in captivity, earlier in October, following joint operations by US and Pakistan officials.
"The idea of a beheading is always on the table, so [our son] certainly knew that this type of thing would happen," Caitlan told US network ABC News.
The woman explained she had to come up with creative ideas to help her son be less scared.
"Of course this was an intolerable situation for a child to be in, the constant fear, so we had to come up with really unique ideas on how to help him not be afraid," she explained.
"We would come up with games to make it not seem so scary. He had great fun pretending to be Oliver Cromwell chasing [King] Charles I around and trying to behead him.
"So we made it a game so that he wasn't afraid, because there was, you know, there was nothing we could do if it came to that except try to make him less afraid," she continued.
The couple faced criticism for having gone to Afganistan while Coleman was pregnant. In previous interviews, the woman defended the couple's decision to have children during their captivity.
She also claimed the terrorists abused the family as a way to persuade them to join their cause and poisoned her food to induce a miscarriage.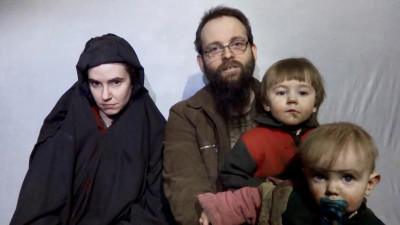 Coleman, who refused to clarify whether she converted to Islam during her captivity, continued to wear a hijab – a garment typically worn by Muslim women – even after returning to Canada.
Her husband claimed in an October interview that the insurgents had raped his wife and had killed an infant daughter, but he did not elaborate further.
A video of Coleman and her husband surfaced last year. Both hostages pleaded with their respective governments to secure their release. The footage also showed the couple's children.
The woman went on to criticise both the Canadian and American governments as well as the extremist organisation. The video was published by extremist channels and shared by the US-based SITE intelligence group, which monitors terrorist activities.
The couple had already appeared in a video in which they pleaded Washington to secure their release. Extremists warned the hostages would be killed if the the Afghan government continued to execute Taliban prisoners.