A British mother-of-one has been convicted of joining Islamic State (Isis) after she took her young son to Syria in October 2014. Tareena Shakil, 26, later fled back to Britain from Isis' (Daesh) territory, but on 29 January, after a two-week trial, Birmingham Crown Court decided that she had not simply wanted to live under Sharia law, as she had claimed.
Shakil was also found guilty of encouraging terrorism via her Twitter account, a charge which she denied. The prosecution produced around 2,000 messages on social media, including one which depicted her son wearing a balaclava emblazoned with the terrorist group's logo and another showing him next to a rifle. She also posted images of the terror organisation's black flag, calls for people to "take up arms", and suggested that she would like to become a "martyr".
The court ultimately rejected her claim that IS handlers had forced her to make the posts. Shakil will now be sentenced on Monday, 1 February.
Journey to disillusionment
The court heard that Shakil left for Syria after developing online friendships with other members of IS. She told her family she was going on holiday, before travelling first to Turkey and then on to the group's capital, Raqqa.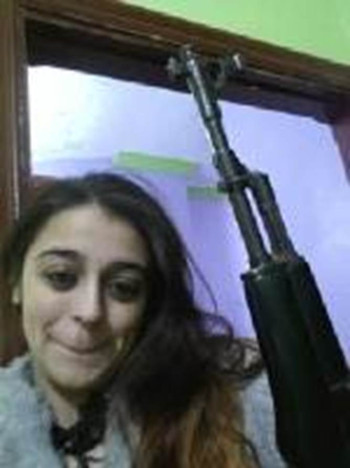 She claimed that she had wanted to live under Sharia law and that reports of IS's crimes had been exaggerated by unfriendly western media. She also claimed that her son was seen in the balaclava because he liked wearing hats.
Shakil returned to Britain just a few months later, in January 2015, having lived in a mansion full of women forced into domestic work while they waited to be married off to IS fighters.
After becoming disillusioned with her life, she bribed a taxi driver with $50 (£35, €46) to help her escape, and crossed into Turkey under the noses of an IS patrol.
Shakil told the court: "We luckily managed to make it through without being stopped and when we got to within a kilometre of the Turkish border I told him to stop and let me out. I threw the money at him and ran across a field to a barbed wire fence.
"There were three Isis fighters standing nearby but they had their backs to us and didn't see us running, but they were so close. The barbed wire was shallow and we were able to get over."
Shakil was arrested by British police when she arrived at Heathrow. At first, she claimed that she had been kidnapped but accepted in court that this was a lie.
Internet militant
Assistant Chief Constable Marcus Beale, who leads on counter-terrorism across the West Midlands, said that Shakil "had self-radicalised by viewing extremist material on the internet".
"Our assessment is that she was not naïve; she had absolutely clear intentions when she left the UK, sending tweets encouraging the public to commit acts of terrorism here and then taking her young child to join Daesh in Syria," he said.
"Ms Shakil had already incited others to commit terrorist acts on social media and having spent months living under Daesh, she no doubt presented a real threat on her return to the UK from the country early last year."
Beale added that Shakil's son was safe: "He was put in substantial danger in a chaotic war zone. That is no place for a young British citizen to be. He is now back in the UK. He is safe and we wish him a long, successful life."