Taxi cab bursts into flames in London as firefighters tackle blazes during heatwave
Images and videos on social media showed taxi enveloped in flames.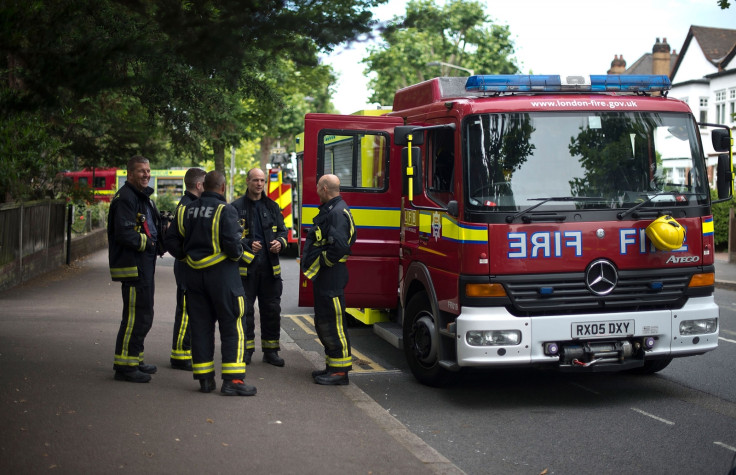 Firefighters from the London Fire Brigade were called to Blackfriars Bridge at 11.49am on Monday (18 July) to reports of a black cab bursting into flames. The incident occurred as a heatwave began in the UK, with highs of 32C expected in southern parts of the country over the next few days.
Many took to social media to post videos and images of the incident on Blackfriars Bridge after witnessing black smoke rising high into the air. Some images showed the taxi enveloped in flames as firefighters fought to put the fire out.
A spokesperson for the London Fire Brigade said: "The northbound cab was badly damaged by the blaze but thankfully there are no reports of any injuries. The cause is under investigation."
Firefighters were also kept busy in other parts of the capital on Monday. In South Kensington, a shop fire took four fire engines and 21 firefighters to put out, while six fire engines and 35 firefighters and officers attended a flat fire in Camberwell.
The London Fire Brigade confirmed that the shop fire in South Kensington was caused by a fault in the fridge's cooling system and said that a small portion of the shop on Old Brompton Road had been damaged in the incident. Only one person was working at the shop at the time of the fire and reportedly left the building before the Fire Brigade arrived.
The fire at the flat in Camberwell Road was more serious, where a third of the flat was damaged and the flat above suffered from heat damage. The London Ambulance Service treated two people at the scene.
A spokesperson for the London Fire Brigade said: "The fire is believed to have been caused by a lithium-ion battery for an electric bicycle which failed while charging. A neighbour called the Brigade after the flat's occupant raised the alarm."
Elsewhere in London on Sunday (17 July), 10 fire engines and 72 firefighters were called to a fire at a scrap metal yard in Enfield, north London.
As temperatures continue to rise, the London Fire Brigade has urged people to take care with barbecues to prevent serious fires, noting that the capital's firefighters attend two barbecue fires every week over the summer months.
Chris O'Connor, head of community safety for the London Fire Brigade, said: "It seems crazy that we need to tell people not to use barbecues on balconies or indoors, but we clearly do. Barbecue fires can spread quickly and could not only damage your home, but could cause serious injuries or worse."
© Copyright IBTimes 2023. All rights reserved.