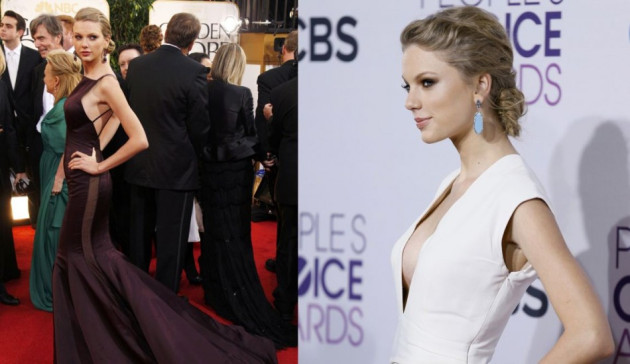 Country crooner Taylor Swift has sparked rumours she has gone under the knife, after displaying enhanced curves at recent awards ceremonies. According to American magazine In Touch Weekly, Swift underwent breast enlargement surgery last year. The magazine claims the I Knew You Were Trouble singer has been "looking noticeably bustier in recent months" and that it was not the result of a growth spurt.
"[Taylor] received a bust boost back in April," an insider was quoted as saying.
At the People's Choice Awards, the 23-year-old singer opted for a daring Ralph Lauren gown with a plunging neckline gown, showing off a noticeably fuller cleavage. Meanwhile, at the Golden Globe Awards, she went for a Donna Karan Atelier gown, with a sexy low back.
The Daily Mail's report quotes plastic surgeon Dr Michael Fiorillo as confirming what he feels are implants. Fiorillo has not treated the singer but he believes Swift has gone from an A cup to a B cup and claims "you can see the implants".
Meanwhile, reports of the breast implants come after Swift's break-up with One Direction star Harry Styles. She reportedly asked Silver Linings Playbook star Bradley Cooper to come as her date to the Golden Globe Awards party; unfortunately, the Hangover star had to decline.
"Bradley has absolutely no intention of getting together with Taylor. He thinks she's far too young for him and wants to date someone his own age, not 16 years younger, because he's ready for something serious," a source was quoted by celeb blogger Perez Hilton, "It was a little awkward for Bradley. Jennifer came to him and told him that Taylor was interested in getting together. He had to politely decline, knowing full well that Jennifer [Lawrence; Cooper's co-star in Silver Linings Playbook] and Taylor are friends."