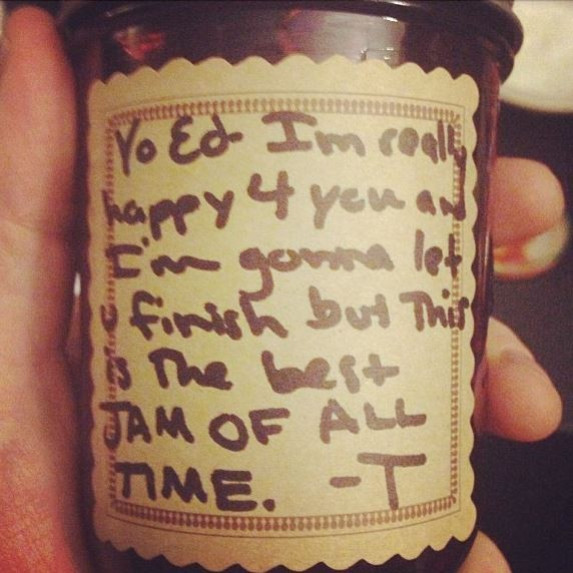 Country singer Taylor Swift has mocked rapper Kanye West, who infamously interrupted her acceptance speech at the MTV Video Music Awards in 2009.
The 23-year-old Red singer made jam for friend Ed Sheeran, who posted the photo on Instagram along with the caption: "Taylor made me some jam. Amazing."
The jam came with a label, hand-written by Swift, which read "Yo Ed - I'm really happy 4 you and I'm gonna let u finish but this is the best JAM OF ALL TIME. - T"
The label refers to West's rant four years ago, after Swift won Best Female Video for You Belong With Me, beating Beyonce Knowles' Single Ladies.
West rushed on stage, grabbed the microphone from Swift and yelled "I'm sorry, but Beyoncé had one of the best videos of all time!"
This year's VMAs take place on August 25. Swift is nominated for Best Female Video and Video of the Year for I Knew You Were Trouble.
"Two VMA nominations!! If you vote and get us one, I promise to keep a firmer grip on the mic this time :)," she tweeted on 17 July, joking on the incident.
Meanwhile, West will make his seventh VMA appearance this year at the Barclays Center in Brooklyn, New York.
Luke Bryan Says Swift Is No Longer A Country Artist
Meanwhile Crash My Party singer Luke Bryan has said he no longer thinks Swift is a country artist like himself.
"I wouldn't necessarily say she is a country artist. I mean, obviously Taylor Swift started in country, but she morphed into somewhat of a cultural icon, so, who am I to judge what she is?" he told the Huffington Post.