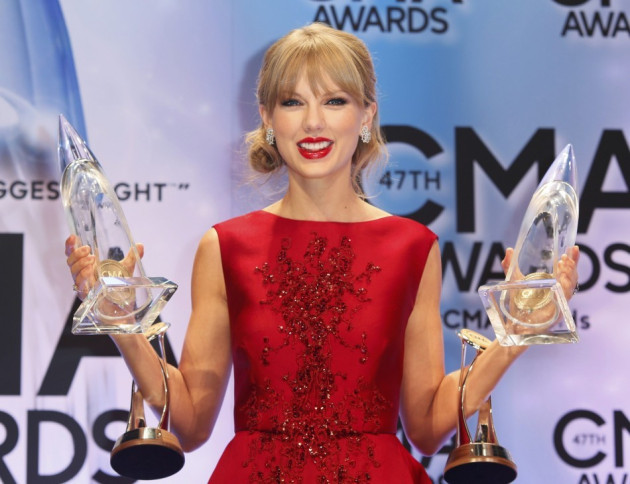 The 47th annual Country Music Association Award (CMA) was held at the Bridgestone Arena in Nashville, Tennessee.
Taylor Swift was honored with the CMA Pinnacle Award, which is given to an artist, who has taken country music to a worldwide audience. The only other previous winner of the award is Garth Brooks, who received it in 2005.
"I just know that this had to have taken a lot of people to make this decision to give this to me," Swift said, "You're not only rewarding my hard work and exhaustion, you're rewarding the hard work and exhaustion of my family and my label and anyone who works with me. And, most of all, the fans who filled stadiums. I love you."
The biggest award of the night - The Entertainer of the Year- went to the veteran Texan musician George Strait. Miranda Lambert and Blake Shelton were also big winners at the ceremony. Lambert won the Female Vocalist of the Year award and her better half grabbed the awards for Male Vocalist of the Year and Album of the Year for Based on a True Story.
List of 2013 CMA Award winners:
Vocal Duo of the Year: Florida Georgia Line
New Artist of the Year: Kacey Musgraves
Vocal Group of the Year: Little Big Town
Musical Event of the Year: Tim McGraw feat. Taylor Swift and Keith Urban, (Highway Don't Care)
Single of the Year: Florida Georgia Line (Cruise)
Song of the Year (for songwriter): Lee Brice, I Drive Your Truck
Music Video of the Year: Tim McGraw feat. Taylor Swift and Keith Urban (Highway Don't Care)
Musician of the Year: Mac McAnally (Guitar)
Lifetime Achievemnet Award: Kenny Rogers