The head of Tbilisi Zoo has urged soldiers deployed in the Georgian capital after catastrophic floods not to kill escaped wild animals unless absolutely necessary.
The floods tore through the city on Sunday (14 June), killing 12 people, and surging through the zoo, allowing animals including lions, tigers, jaguars and wolves to escape and roam the streets. Soldiers were deployed to tranquillise or kill the animals, and residents urged to stay indoors.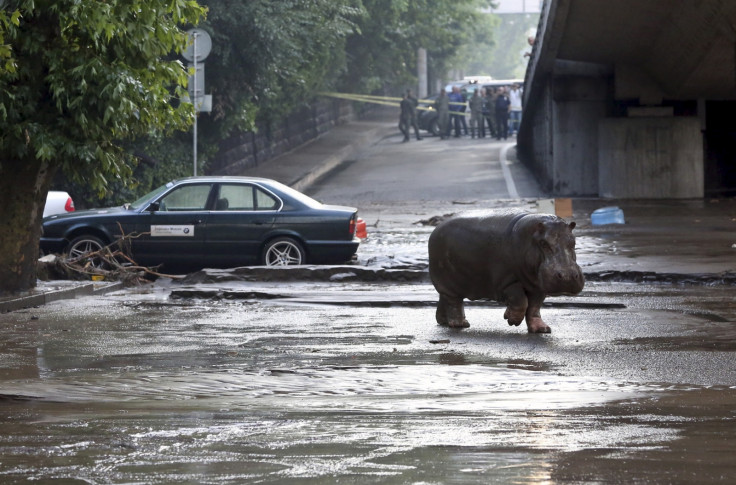 However there were reports on social media that soldiers were killing rare animals unnecessarily, and the zoo urged people to spare the lives of animals wherever possible.
"We beg, if somewhere you see an animal, don't kill it !!! Just call us !!!," the zoo posted on Facebook.
The zoo's director said that he was not aware of an order being issued to kill all of the animals.
"In the case of a predator attacking a man, its liquidation is understandable. But many cases have to be explained. I know for sure there was no order to kill issued. Just maybe someone has exceeded the authority," said Tbilisi Zoo director Zurab Gurielidz, reports Russia Today.
In the wake of the floods, Georgian Prime Minister Irakli Garibashvili advised Tbilisi residents to stay indoors until the animals had been killed or recaptured. More than 30 wild animals escaped the zoo, including a hippo, seven bears, six lions, six tigers, jaguars, 13 wolves and an alligator.
A number of animals died in the flooding, and the bodies of three people were found on zoo grounds.
One of the zoo's white lions was shot dead on Sunday, while the alligator was found in water near Tbilisi's Heroes' Square and tranquillised.
Six wolves were reportedly killed near a children's hospital, and pictures showed locals herding a hippo along a main street near the zoo until it was tranquillised by soldiers.
The head of the Georgian Orthodox Church said that the floods were visited on the city by God, as punishment for the 'sin' of the Communist party who he said built the zoo after destroying churches and melting down their bells.
Heavy rains caused a stream that runs through the city to swell to a surging torrent, destroying scores of homes as well as the zoo.