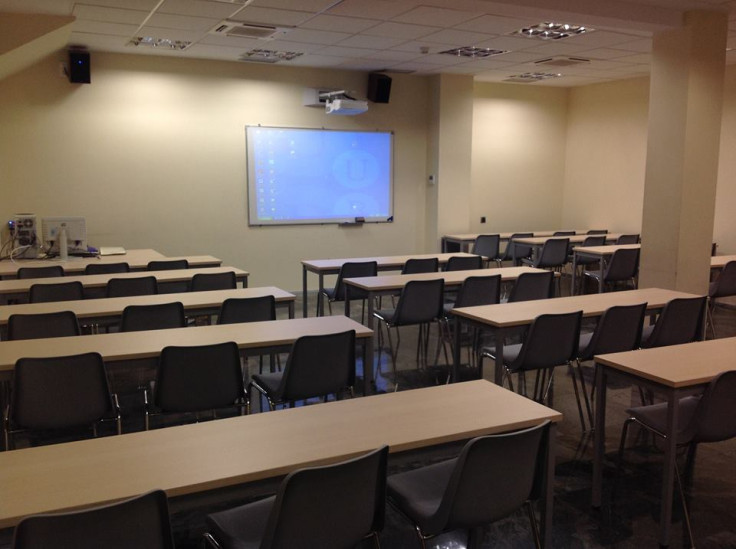 A single mother-of-two, accused of having sex with at least six teenagers who she used to teach at a New Jersey school, is facing lawsuits filed by their parents.
Nicole Dufault was arrested in September 2014 for allegedly having physical relationships with six boys who she taught at Columbia High School in Maplewood, New Jersey. She is still awaiting a trial on related criminal charges, the Daily Mail reported.
The three lawsuits – the most recent one was filed just two months ago – seek damages for Dufault's alleged actions and states that the 38-year-old came in contact with the boys between 2013 and 2014, when they were between 14 and 15 years old.
The legal complaints also mention how the woman abused her authority as a teacher and coerced the students into performing oral sex, and also caused emotional distress and psychological injury.
Local media reports stated that on one occasion, Dufault had made a student watch her performing oral sex on another. She also allegedly asked the boy to film it with his cell phone.
Among the 15 lawsuits filed against her, some demand up to $1m (£736,950) in compensation, as well as court and legal costs, and allege that the students had "social communication difficulties" and were "vulnerable to sexual harassment".
The other complaint filed earlier in September 2016 alleges that Dufault had invited a freshman and other students in the spring of 2014 to cut class and "hangout" in her classroom during their off periods. She had even used the school computer to change the students' records so they would not be caught skipping class.
The suit claimed that Dufault "spoke with them about lewd and sexual actions, brushed up against their bodies and touched intimate and personal parts of their bodies in front of other students in the social group," Tap Into reported.
Parents have also blamed the school district for the alleged crime and have sought compensation from it as they believe it failed to properly supervise Dufault's classroom at those times.
The woman's attorney, Tim Smith, has refuted all the allegations and claimed that Dufault was actually the victim. He said that her client was suffering from "frontal lobe syndrome", which he blamed on a brain surgery that Dufault had undergone following complications from her first pregnancy.
"You had a particularly overly aggressive group of students who came into contact with a teacher who suffered from brain damage," he said.
Smith admitted that some of the incidents did take place inside the school area but seemed to blame the institute, claiming they never screened Dufault after the surgery.
"You had a whirlwind of events that led to this victimisation of her," he added.
Meanwhile, the school district spokeswoman Suzanne Turner said in an email to Tap Into that the allegations against Dufault were "disturbing".
"The nature of the charges are the most difficult that schools, parents and children would ever have to discuss together," Turner said.
She added, "By law, administrators and Board of Education members are not permitted to publicly discuss personnel or individual student matters, ongoing litigation, or other issues requiring confidentiality.
"However, we can affirm we believe deeply in our mission to provide our students with a safe and healthy learning environment. We are hopeful that the process will bring closure to this painful chapter in our community's history."